Question:
Hi Fanny, I was browsing the other day and came across a REALLY hot clip of a guy tied up being forced to 'dry cum' again and again, what does it mean? And can I do it on my own?
Phil, London
Answer:
Hi Phil! The term 'dry cum' or 'dry orgasm' means experiencing an orgasm without actually shooting your load. So you get all the feeling of MMMMMMMM, but no spunk is released.
Dry orgasms can occur quite naturally, though it's more common in younger men who can cum 5 or 6 times in a night, the testicles simply run out of spunk! The theory is that the more dry orgasms you can attain, the more pleasure you'll feel when you finally release all of that lovely cum!
So how do you do it? Some practitioners of tantric sex boast of having such a control over their body and minds that they can orgasm repeatedly for hours without leaking a drop. Now unless you have hours/weeks/months and a genuine desire to learn the way of the tantric then this method probably isn't for you.
Though the core principals will be the same, you will need a certain level of control over your mind set and your kegel muscles (see Male Orgasm). What you have ,ost likely seen is a Mistress 'forcing' a man to dry cum. It may even be that you were intrigued by the submission of the man as well as the act of the dry orgasm, just an added little thought for you to ponder….
Anyway, I digress! On the assumption that you don't have a bad ass Mistress to hand to tie you up and force you through a series of erotically painful dry orgasms I'm going to assume that you want to have a pop at this…'flying solo' shall we say? It's perfectly safe to dry cum and from what I've been told (and seen) intensely pleasurable so if you're willing to put in a little effort and a lot of practice I can't see why you shouldn't be able to achieve it on your own.
A handy little trick might be to invest in a cock ring (see Top 10 Sex Toys for HIM), my particular favourite is the 'clincher' type ring shown here,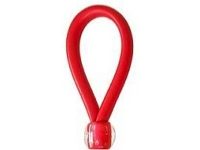 it gives you more control over how snug a fit you have. You MUST be careful of fitting it too tight or for prolonged periods of time, but they are renowned for giving men longer, harder erections, more intense orgasms or indeed for helping to reach that often elusive solo dry cum.
Have fun trying, good luck and stay sexy! Mwah x