Reindeer Boobs! A TITILLATING festive craze sees women decorate their boobs to look like reindeer.
Believed to be a bold take on the "ugly Christmas jumper" trend, the bizarre idea of reindeer boobs has gained popularity on social media.
.@carlosbenevides Looking for that special #Chistmas outfit? This just might be the thing for you #reindeerboob https://t.co/5m0Md9OiDb pic.twitter.com/TPMMAz88Tv

— 91.5 The Beat (@915theBeat) December 4, 2017
Women have been sharing their bejazzled breasts on Instagram with many covering their nipples in red diamante studs or tinsel before applying  googly eyes and felt antlers.
They are then sharing daring Yuletide selfies with the hashtag, #rudolphboob.
'Rudolph' can be exposed in a number of ways but the easiest seems to be with an over the shoulder top or by cutting a hole in a Christmas knit.
Online retailer Etsy is even selling a top with a hole already cut out around the bust, which is perfect for those fearless enough to rock the look.
Designed by YourSassyGrandma, the £38.29 knit's product description reads: "If you want to stand out at your ugly sweater party, then this sexy reindeer ugly Christmas sweater is for you."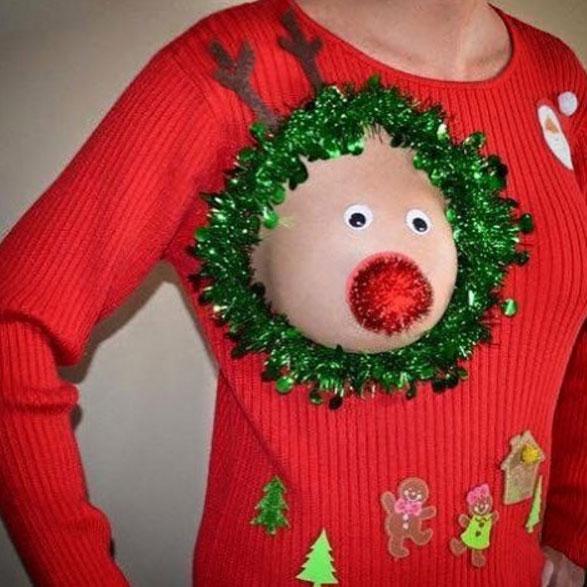 One customer, Brenda, who purchased one of the jumpers commented: "Love this – [it] was the best sweater of the night for sure."
But this isn't the first nipple trend fashion fans have tried.
In October 2016, US model Binx Walton stormed down the Saint Laurent runway at Paris Fashion Week SS17 with her left breast adorned with silver studs.
The 20-year-old beauty rocked the heart-shaped bling – the brainchild of the brand's creative director Anthony Vaccarello – with a fierce black leather mini dress, patent peep-toe heels and slicked-back hair.
Read the full article here.
And any of you sexy ladies getting involved with the #reinderboob trend, feel free to tag @getfanny!