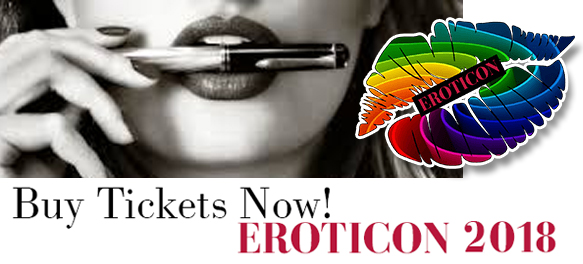 Calling all Sex Bloggers, Erotica Writers, and Erotic Creatives. It's that time of year again. Let's toot the horns, shall we? Get ready for Eroticon 2018 which is set to take place on the 17th and 18th of March at the Holiday Inn in Camden.
Eroticon is a fabulous two day event where you can collaborate with your peers as you learn, socialise and have fun with the most talented, and exciting speakers from around the world. Wait, I should be signing on for this, what shall I wear?
Take advantage of the Friday night Meet and Greet where you can mingle, and even pre-register for the conference. You'll want to get a good night's slumber because Saturday (8:45 a.m.-5:30 p.m.) and Sunday (9:45 a.m.-4:15 p.m.) holds the real festivities. Don't worry, teas, and coffees will be provided. You don't want me around without my caffeine fix. Try the Remittance Girl-Taboo session. There's also Kinklab, The Erotica Effect, and my personal favourite, lunch, and dessert! Also, with speakers like Kayla Lords (Writer, Sex Blogger, Podcaster), Stephanie Alys (CPO of MysteryVibe, Eroticon 2018 Sponsor), and Daniel Cooper (Technology Writer), you'll be sure to expand that scintillating mind of yours. Please note that the schedule may be subject to change. By the way, you won't want to miss the Saturday Night Social. Hmmm, what am I wearing again?
Eroticon 2018 Speakers
I know you want to be a part of this event, why wouldn't you? Tickets are selling fast, so get a move on. Book NOW! http://eroticon.co/2018-tickets/