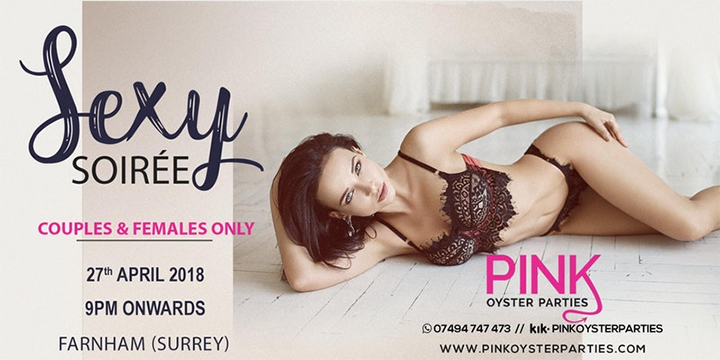 For single ladies and couples interested in a night full of erotic possibilities, Pink Oyster Parties presents "A Sexy Soiree Party."
Don't miss out on the opportunity to attend this exciting event! Single women, couples, and couples with a male partner are welcome (**no single men).
The erotic fun begins at 9 PM Friday, April 27th, and concludes Saturday, April 28th at 3:30 BST. The exclusive venue offers 8 ensuite playrooms, 2 large baths, sex swings, and a lounge for prospective playmates to become acquainted.
The dress code for women at this exciting event is "smart and sexy." For men, they request shirts, suits, or smart wear only, with no jeans, trainers, or caps. Although soft drinks will be provided at the party, they say to bring your own alcohol. The location of the soiree is Farnham, Surrey, UK. The exact location will be provided 48 hours before the event to those who are registered to attend.
Since the last party was sold out, it's best you make your reservations in advance. They are limited to 40 couples and 10 single females. Tickets can be purchased online: EventBrite. The cost per couple is £60, and includes those who would like to attend as a couple with a male. SINGLE LADIES FREE! reserve this free entry by the following methods:
* Via Eventbrite
* Email sent to: info@pinkoysterparties.com
* Pink Oyster line 07494 747 473
For further questions regarding the soiree, please see full contact info. below:
* Whatsapp 07494 747 473
* kik: pinkoysterparties
* Web: www.pinkoysterparties.com
* Instagram: pinkoysterparties
* Twitter:@pinkoysterparty
A must do erotic adventure. The possibilities are endless, so be sure to book in advance!