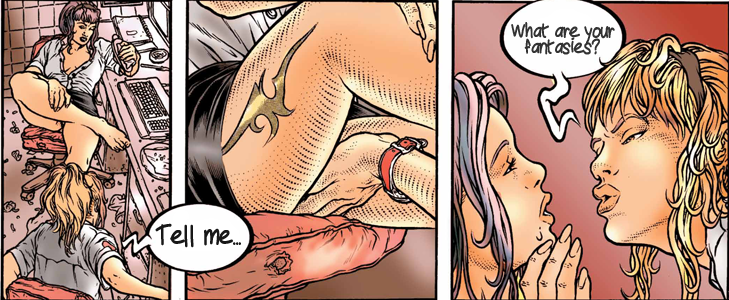 Have you ever wondered what your partner, or any woman for that matter, fantasises about during sexy time?
Well fear not men, Fanny is here to enlighten you about all the frisky thoughts running through those pretty little heads.
You might even be sweetly surprised to find that women on the whole are just as naughty with their thoughts as you guys. Infact most of the sexy scenarios on the ladies wish lists are the same as yours!
Here they are, just for you guys, the Porn Poppet's top ten female fantasies:
10. Dominatrix:
Having a grown man at her feet, worshipping every inch of her before making him beg for release… women love the thought of having that kind of power over a man. It's empowering and sexy as hell.
9. Submission:
On the flip side the thought of being pinned down, hair pulled and thoroughly owned by a strong, sexy, dominant man makes the girlies panties melt every time. Giving a man total control allows women to embrace their femininity, even if they do get straight back to wearing the trousers after submitting in the bedroom.
8. Roleplay/Spanking:
'I'm such a bad, dirty girl. You should totally spank me for that…'. The classic naughty schoolgirl/strict teacher scenario comes to mind, but maybe that's just me… Anyway! Role-playing is great fun, builds sexual confidence and spanking is a kinky bonus that 9 times out of 10 she'll love and will lead to uber hot sex!
7. Sex with a Stranger:
Although some women wholly embrace their slutty ways, others aren't so quick to admit this one for fear of being labelled. Stil,l being picked up in a bar or club and being swept off for a night of hot, steamy, no strings attached sex is appealing, for obvious reasons…
6. Another Woman:
Yes lads she's thought about it! Girl on girl fun is massively on the increase, making it much more acceptable for women to indulge in kinky fantasies about a hot, sexy chick. It's extremely erotic to imagine themselves touching/being touched by another woman and if you're extra lucky, she'll let you play too…or at least watch.
5. Two Men:
So a few of you may like the thought of getting a mate involved, showing off and sharing your kinky bird. The rest are probably thinking 'Boooooo go back to number 6!', well sorry dudes it's a fact, women imagine more than one man at a time. It may be taboo, but this fantasy usually involves both guys being straight, meaning all that attention and ravishing is for the lucky lady.
4. Voyeurism:
You may have your very own peeping Tomilina and not even realise it! Or perhaps a naughty neighbour who likes a good curtain twitch around shower time? Watching is a massive turn on for women too. It most cases it allows them that extra bit of filth, without actually having to get too down and dirty.
3. Forced:
It's well known this is a hugely popular fantasy for women. It allows women to indulge in all the filthy things that could be done to them, guilt free. Getting their clothes torn from them, crying and struggling, but secretly loving every minute of it…the fantasy is hot. Of course in reality she'd have your nuts for earrings!
2. Exhibitionism:
Women love the idea of a little mirror action, maybe a homemade porno or a spot of dogging? Women are notoriously body-conscious, which stops most from carrying these naughty scenarios out, that and the fear of said home movie ending up at the mother-in-laws by accident! That said, it doesn't stop them fantasising and loving the idea of being paraded for the masses.
1. The Stripper:
Yep, you lucky lot, the number one female fantasy is to become your very own private, sexy dancer. Women want to hold your attention, turn you on, feel sexy and empowered. Strutting their stuff in some hooker heels, stripping off and delivering the perfect lap dance to drive you insane with lust is the ultimate way to achieve that.
So the next time a stranger sits next to you on the bus or the Mrs buys a brand new pair of six-inch heels….remember these words and cross your fingers boys, you never know what naughtiness she might have in store for you!
Is it just me wondering that if guys and girls have such similar naughty thoughts, then why aren't more of these hot items being ticked off the wish list? Have you licked and ticked any? Know a hot woman who's dragged you off to the bedroom for a kinky game of Drs and Nurses? As always, feel free to share!