Honouring pioneers in sexuality, striptease artists, sexual service providers and their allies
The 2017 Sexual Freedom Awards promote excellence in erotic performance and sexual services and celebrate pioneers in the field of sexuality. The proceeds of the Awards ceremony are used to fund the work of the Outsiders Trust – a charity which supports disabled people in their sexual freedom and expression.
Nominations for the Awards are accepted for individuals, services and organisations. Nominations are now open for 2017.
The 2017 Sexual Freedom Awards evolved out of the international Erotic Awards, which were run by Tuppy Owens in London once a year from 1994–2013. The Awards were famous for their Golden Flying Penis Trophies, hand carved for the event in Bali. This trophy is still presented to winners on the night.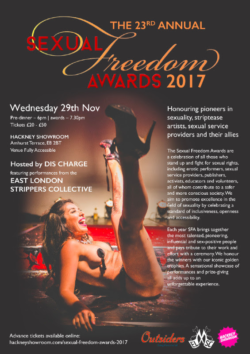 This year's Awards will take place on November 29th at the Hackney Showroom, London.
"Being selected as a finalist in these awards is the glory and winning is just the icing on the cake."
The 2017 Sexual Freedom Awards, now in their 23rd year, are a celebration of all those who stand up and fight for sexual rights, working towards a sex positive world. The awards ceremony is an annual acknowledgement of erotic performers, sexual service providers, publishers, activists, educators and volunteers, all of who contribute to a safer and more conscious society.
The Awards includes a sensational showcase of talent and performance alongside prize giving. This year the Master of Ceremonies will be the rising starlet Dis Charge, cabaret host and burlesque diva extraordinaire, Kian de la Cour will be chairing the judging panel, and producing the event will be Stacey Clare of East London Strippers Collective fame.
Win 2 Tickets!
Sounds like a good night out, how would you like to attend? That's right soldier's Fanny has managed to bag a couple of tickets and YOU lot are in with a chance of winning! All you have to do is follow Fanny! Head over to Planet Fanny on Facebook or @getfanny on Twitter to find out how you could be mingling with the industry's hottest talents! Hurry, competition closes at midnight on November 20th.