We all love a freebie, but it seems the adult industry are having their say on what they think about free tube sites and illegal downloads. Adult producers and performers have started the #PayForYourPorn campaign to fight back against the illegal downloads that are 'killing' the porn industry…
The same argument has been going on in the music industry for a few years now with artists campaigning in the courtrooms to have illegal sharing sites shut down and they've made some progress with several high traffic sharing sites being shut down, but can we see the powers that be giving as much time and thought to Little Miss Porn Starlet as they do Lily Allen?
In a recent article for Vice Jessica Drake was quoted as saying:
'People don't realise illegal downloading copyrighted digital content results in a loss of jobs, lowers wages, higher unemployment rates and higher taxes. Theft is also a violation of personal consent and ethics. Support the entertainment you love, the companies and stars who make your favourite movies and the economy. Please pay for your porn.'
So what effect are tube sites and illegal downloading of porn having on the adult industry in the UK? I caught up with the UK's most outrageous porn star, Daisy Rock and global porn superstar Tanya Tate to get their views on the subject, here's what they had to say:
'I think the #PayForYourPorn movement is an interesting concept. But, I do believe it is going to take more than a hashtag to make a difference. I think people know what they are doing and feel a sense of entitlement to the product, so while educating the masses is a positive first step, there needs to be more.

What I do is I offer alternatives. Something as simple as offering to follow those that join my website on Twitter, offering free fan signs, or other things of that nature where you change the mindset of one who would be downloader into a member of your team. That is going to make the change.'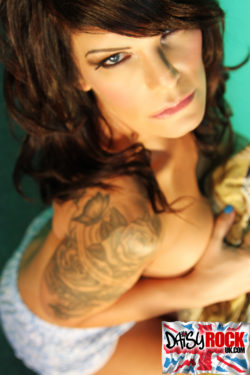 'PLEASE SAVE OUR PORN! FREE PORN is never going to improve our industry, the future is us little people making quality porn, PLEASE SUPPORT US.'
The general consensus around the porn industry for the past year or so has been 'evolve or die' with the dawn of instant porn on your mobile, tablet, laptop or PC companies are having to constantly lower their outgoings to make up for the loss of revenues which they fear will lead to lower quality productions.
This campaign is an echo of the 'Freedom of Speech Coallition All-Star Anti Piracy Public Service Announcement' made by American adult stars (In order of appearence) Lisa Ann, Julie Meadows, Kaylani Lei, Sinnamon Love, Axel Braun, Nicki Hunter, Ron Jeremy, Alektra Blue, Kimberly Kane, Will Ryder, Cousin Stevie, Joanna Angel, and Charlie Laine a few years back:
So you guys are faced with a conundrum, don't pay for your porn and risk the possibility of slowly watching the quality of your favourite performer/niche fade into obscurity or get behind the industry and pump some life back into it!
Porn has been around pretty much since the dawn of man, it's not going to disappear, but the industry as a whole is a marauding ship at the moment, are the pervy paying consumers the only ones who can keep it afloat?? Just in case it is.. I call on you Fanny Hunters, do your bit for the industry, #PayForYourPorn and stop jacking off for free, it's worth it!
To get involved with the #PayForYourPorn Campaign follow @PayForYourPorn and check out www.payforyourporn.org.
As always I'd love to hear YOUR thoughts on the subject in the comments section below, Fanny x