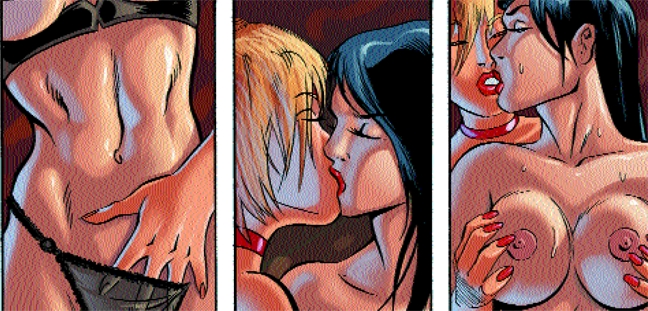 Hey you horny lot, Fanny Hunter here, your very own Porn Poppet.  Today, as always, I'm all about what turns YOU on.  Do you fantasise about a hot tryst with the naughty looking housewife next door?  Or perhaps being caught knocking a quick one out by a sexy stranger?   Well you're not alone.
We all have our personal favourite fantasies and being the awesome kinda' girl I am,  I've picked at the filthy minds of the masses and come up with these delightful nuggets of naughtiness.
The top ten male fantasies as decreed by the Princess of Porn herself are as follows:
10.  Sharing your partner:
Ok, so it's not every mans cuppa' tea, but it's hot for a lot.  The idea of taking a woman to new heights of pleasure, that can only be reached with a helping hand….or other appendage, is a sexy, if somewhat taboo fantasy.  It's also arousing for those Dominant men who like their lady to submit to them completely.
9.  Being Watched/Watching:
It's said that most of us have an inner voyeur/exhibitionst just itching to get out.  So whether you're a bit of sneaky peeping tom or want to flash your sexual prowess to the world…you're not the only one!
8.  Different Orifices/Change of Scenery:
Yes, I said orifices…Apparently 'any hole's a goal' isn't strictly true.  A lot of guys would be happy just switching ends or changing rooms!
Ok so maybe it's more about elicit oral sex in the great outdoors, but you get my point…
7.  Teen/Granny Sex:
A young stud who fancies a sexy MILF?  Or a mature man who craves a toned, pert student?  Fantasies involving different age groups are uber popular, as my pussy search engine confirms on a daily basis!
6.  Roleplay:
Who doesn't love the thought of a kinky bed bath from a hot woman in a tight little nurses outfit? Or a good polishing from a foxy french maid?  The possibilities are endless when it comes to sexy outfits and kinky play time.
5.  Mirrors/Video:
Men are very visual creatures.  Watching themselves and/or a partner in the middle of sexy time is a major turn on.  Starring in a homemade movie and being a viable porn star is both adventurous and sexy!
4.  Caught in the Act:
We're not just talking about the classic danger w*nk here, although that's hot and thrilling in it's own way.  I'm talking a full on session being interrupted mid thrust…
3.  The Stranger:
'You have erection don't you, you dirty boy.  Here let me fix that for you..'  How many times have you imagined those words from a sexy looking stranger you've strolled past in the street?
2.  Submission/Domination:
Is the inner you a sissy slut who wants to be trampled on by six inch stripper heels?  Or an assertive Sir who wants to spank and punish naughty girls?  Both hot in their own right.  Dipping your toe into the fetish world, submitting to a smoking hot Domme or taking complete control of your own very sub is more popular than ever.
1.  Three's Company:
Dun dun dun….Of course number one is the fave fantasy of millions of men all over the globe….the threesome!  Having your person ravished by two sexy ladies is the holy grail of sex acts and endless fuel for fantasies.  Literally double the sexy fun, not to mention two sets of….hands.
So there you have 'em, the top ten male fantasies!  Please feel free to leave comments/confirm/deny or perhaps you have your own scandalous fantasy that you'd like to share?  I'm always happy to hear from you!