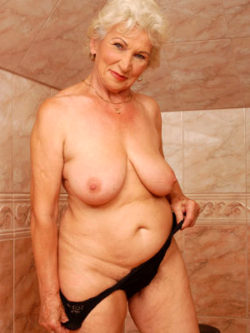 Name: Connie
Age: 78
What is your confession? I'm no stranger to a good old granny gangbang, but this particular time was naughty even for me! It was my 78th Birthday and my family had thrown a lovely party for me. All my grandchildren were there with their friends, including the eldest who's just out of college. His mates are all typical lad lads and were getting right into the spirit of things, drinking, singing and dancing.
Now I rarely make it through a whole night without having a little play, I may be getting on, but I'm still as horny as ever! After the cake had been cut and I was sure I wouldn't be missed I decided to sneak upstairs to the bathroom and have a cheeky wank! I know, I know shocking behaviour at my age…
I rushed in, my hand already going to my panties to ease the ache of my soaking wet pussy. That's when I came face to face with not one, but THREE of my grandsons friends. God knows what they'd all been doing in there, but the look of guilt on their faces soon vanished when they clocked the hand in my knickers!
I paused, ready to make my explanations, when I realised not one of them had taken their eyes from where my fingers met my swollen clit. One licked his lips, one just stared open mouthed and one outright groaned and grabbed his growing dick in a soothing motion. Well, well, it seemed I'd found myself a trio of pervy, horny little granny lovers, happy birthday to me!
I know what you're thinking 'dirty old granny' and I know I shouldn't have even entertained the idea, but old habits die hard and who knew when I was going to get such an opportunity for a glorious granny gangbang again! I circled my fingers on my clit as I slowly lowered to my knees. I watched the flurry of excitement between them as they fought with their flies. Mmmmm mmmmm one by one, three fat dicks came at my face and I sucked on them all!
I sucked and slurped until my jaw ached with strain and my cunt ached with the need to be fucked. I stood, slipping off my sodden knickers as I went and bent myself over the sink, spreading my cheeks and offering up pussy to any and all of them. I don't know who fucked me first or what order they went in after that, I didn't care, I just loved every single hard, deep, pounding thrust. None of them came..yet, they just kept on sharing, rotating, moaning, groaning, sweating and fucking me again and again.
I could feel myself being driven closer and closer to orgasm, I had no idea which one was pounding me at the time, I just felt my thighs tense, my muscles tighten from my stomach to my arse and fuck me how hard I came….I had to clench my teeth to stop from screaming and announcing to the whole party that the birthday girl was in the bathroom having a granny gangbang!
I got my breath back and got back on my knees, smiling as I was surrounded by 3 hot, horny young things wanking their cocks in my face, mmmmmmm I knew what was coming next…
Hot. Thick. Cum. MMMMMM lashings and lashings of it struck my face, my eyes, nose, mouth, cheeks, chin. It dripped down my neck to my tits where I massaged it into my skin as they all 3 watched in wide eyed ecstasy.
The sexual power cloaked me as I strolled back into the party, my poor grandson had passed out on the couch, one too many sherries I think. Some people just can't take the pace!
If filthy old sluts are your bag then text sex a granny now! Dirty gangbang granny Connie is one of many mature slappers looking for hot pic swap and a good time…