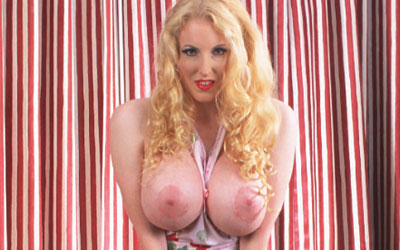 I get a lot of attention for the basic fact that I've got absolutely fucking huge tits! It raises a few eyebrows when feisty guys shout out 'get yer tits out for the lads' and I happily oblige. I like my big tits, I think they're awesome (don't you?) and I don't mind sharing them if I think you'll be sufficiently appreciative…
I was walking though the park wearing what I like to call my titty showing shirt. My boobs were practically falling out, and I was getting looks from women and men as I walked by. A particularly strapping group of guys started following me, and when we were in a secluded area asked to see my tits. I gave them a good show of course and began strutting around and jumping up and down so they could get a good look.
They were practically drooling, and I let one of them get a good grab of my big tits. I let him suck my nipples, and I saw as all his friends' pants began to bulge. The only thing I like more than my tits is a nice BIG cock. One of the guys unzipped his fly and let his 9-inch monster out to play. I immediately grabbed it and began sucking as more of his friends grabbed at my tits.
Soon, my face was surrounded by cocks and they all wanted attention. I lay on the grass and soon had all my holes filled and one was fucking my tits. Hhhhhhmmmm, aaaaahhhh, ooooohhh I moaned with pleasure hhhhmmm, mmmhhh. He came first, shooting his load all over my face. My own body was getting so close to cumming as well, and I began yelling for them to FUCK ME, FUCK ME HARDER…HARDER….hhhmmmm…
My mouth was full and my pussy was being pounded. Aaaahhh oh yes, mmmhhhh oh yes, ooohhh yes, oohhh don't stop, DON'T STOP!!!… When he came in my pussy, it brought me over the edge, aaahhhhh YES…YES…YESSSS!!! and I screamed in pure pleasure as the orgasm consumed by body. The remaining guys all huddled around me and one by one covered my tits in their cum.
I cleaned myself off and went back home to get some rest, but my landlord was waiting for me. Rent was late and he wanted it now. I caught him staring at my tits, and asked if there was some other way I could pay my rent.
He smiled and went to his car and grabbed his camera. He wanted to take some photos, and I was more than happy to say yes. I posed for him in various places in my house with my tits hanging out, and I even sucked my own nipples for him.
I lay on the floor with my pussy spread wide as he took picture after picture. Hhhmmmm…having him watch turned me on mmmmmhhh so I began rubbing my clit and fingering my pussy – ooohhhh, mmmhhhh, aaaahhhh yyyeesss….!!! He snapped away as I came for him and my pussy dripped my juices. Mmmmhhhhh….
He put the camera down and pulled out his hard cock. He rubbed my pussy and then lubbed my tits with my own juices before he fucked my big tits. He was so hard, and when he came, he shot it all over my face, covering me completely. I licked what I could, and he told me rent was paid in full.
Chat with more big-titted beauties now, they're waiting for your call!