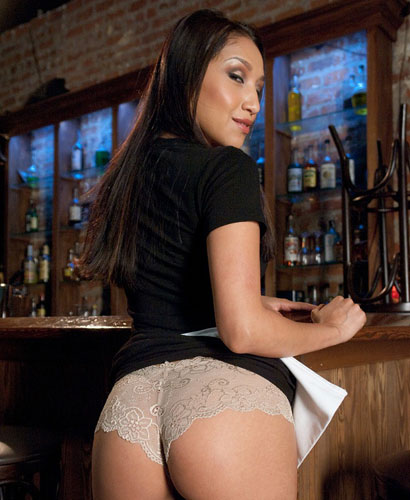 Being the cleaner of luxury properties isn't a glamorous job by any means, but it pays well and being around all those rich powerful men makes me horny. Mr. Lawrence had asked me to come up and clean a property while he took pictures, and I was ready for the task. Mr. Lawrence was rich and handsome, so I was more than a little thrilled when he suddenly asked his dirty cleaner to pose for him.
I teased him mercilessly as I seductively cleaned the room, bending over to let him see my thong from under the uniform I was forced to wear. He told me to take off my clothes and he was so assertive and forceful that I obeyed. I stood there in my bra and panties as he snapped picture after picture. It started out innocently enough with a few sexy poses, but it wasn't long before he told me to expose my breasts and pussy.
I did so gladly, and he could tell from the glistening wetness of my pussy that I was looking to be fucked. I posed for him again and again, bending over and showing my arse hole and pussy to the camera. I spread my pussy lips so he could get some good shots of fuckable hole. It was an open invitation to him.
He acted like he didn't care, but I could see the bulge in his pants. I didn't dare make a move. Mr. Lawrence is in control here and I knew my place. It was when I was laying on the couch, my legs and pussy open for him that he unzipped his pants.
His cock spilled out and he gripped it hard. He told me to walk over to him. He pulled off his pants and shirt as he ordered me on my knees. Without words, he shoved his cock in my dirty cleaner mouth and I began to slowly suck and lick the shaft. Mmmmhhh he tasted sssoooo good! Hhhhhmmm, I was getting ssoooo turned on. I looked up at him, hoping for approval, but I only got a stony stare. His cock was so hard in my mouth, and he let slip a moan.
He told me to stand and pushed me into the bedroom, throwing me on the bed. He climbed on top of me and rammed my pussy with his cock. 'oooohhhh yes, ohhhh yes!' I screamed. The sudden rush of pleasure was overwhelming as he fucked me hard and fast. Hmmmmm, aaaaahhh, oooohhh, hhhmmmm. He was pounding my pussy and wasn't giving a second's thought to me. My orgasm rocked my body and I could feel it from my toes all the way to my head. 'ooohhhh yes, yes, hhhmmm YES!' I could feel his cock releasing his cum into my hole When he had emptied inside me, he pulled out and simply shoved me aside like I was a fuck-hole and not a person.
He walked over to the kitchen sink and wiped his now drained cock as his cum dripped from my pussy. I laid there on the bed as he hastily got dressed and left. There was no goodbye, just a cold stare, but I knew this would not be the last photo session for me and Mr. Lawrence on my dirty cleaner adventure.
Talk to more girls with filthy stories about hot studs taking and pounding them now! There are so many naughty minxes that are waiting for your call!