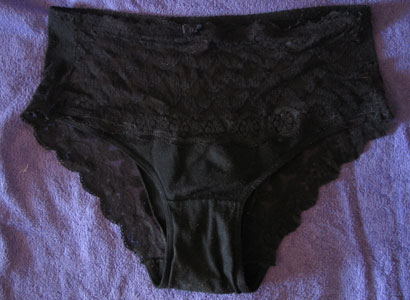 My favourite pair of knickers were pink, lacy and made my bum look great, but they were lost. It was my sixth pair of knickers that had gone missing. I was staying with with my best friend, Jill, and her parents during uni break and figured her Mum had just misplaced them whilst doing the laundry. But one morning, I found out what really happened to my dirty knickers. This knickers confession is going to get naughty!
I had gotten up earlier than usual. My friend and her mum were already gone and I figured her dad would still be sleeping. I walked down the hall, headed to the bathroom. The door to Jill's parents' room was cracked slightly and I could see her father sitting on the edge of the bed wanking his huge cock with his nose buried in my knickers!
I was shocked at first but I couldn't look away. I watched his chest rise up and down as he deeply inhaled the scent of my cunt on my dirty knickers. His eyes were closed and his hand slid wildly up and down his oily cock. Seeing how much I turned him on made me wet and I was making a puddle in one of the few pairs of knickers he hadn't stolen yet. I watched until he shot his load, wiped his cock clean with my knickers, then put them away in a box in the closet.
I thought about what I saw all day. The more I thought about it the hornier I got. I decided to give him something really special. That night after everyone had gone to sleep, I put on pair of sheer black thongs that I thought he'd like. I got into bed and slid my hand inside my knickers and finger banged my cunt until they were a creamy mess. I left them out on top of the dirty clothes bin and just like I expected, the next day they were gone. Now I leave a pair of dirty knickers for him every day.
Want another deliciously dirty knickers confession? Check out my hot sex stories here at Fanny Hunter.