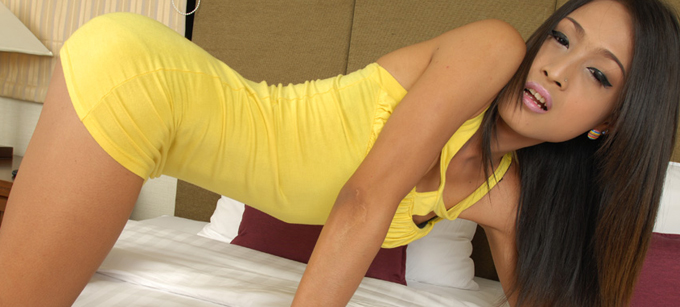 I had just started living full time as the fabulous t-girl that I am when I met a girl name 'Kay'. We became best friends and did everything together. She always made me feel so comfortable and beautiful. I loved being around her.
One day I stopped by her flat and her mum answered the door. I was so excited to finally meet her but she didn't feel the same way. She told me that Kay wasn't home and that she didn't want Kay being friends with someone like me. I was so sad and hurt. I cried for days. And I still hadn't heard from Kay. Then I decided to stop crying and get even.
I remembered that Kay's father, "John", owned a pub. One night I put on cute a designer dress and my sexiest stilettos. I did my hair and makeup perfectly and went to the pub Kay's dad owned. There were only a couple of people in the bar. I sat down at the bar and John took my order. I could tell that he liked what he saw. And I did too. He is very handsome. He's tall with beautiful green eyes, salt 'n' pepper hair and beautiful smile.
He chatted me up and flirted the whole time I sipped my drink and of course I flirted back. I was the only one left in the pub by the time it closed. Actually John was so busy flirting with me that he hadn't even noticed it was past closing time. When I got up to leave, he stopped me and told me I was the most beautiful girl he had ever seen and he was hoping I'd stay a while and chat while he closed things up. I smiled thinking about how mean his wife had been to me and said that I was stay and talk awhile. When I told him I wasn't like other girls. He locked the door and said, 'why have some when you can have it all'.
We didn't do much talking after that. Before I knew it, I was in his office with my dress over my arse and his lips wrapped around my cock. He milked my cock with his mouth looking up at me with his emerald eyes the whole time. It felt amazing. It felt even better when he bent me over his desk and slid his large, hard cock into me bareback. He had a lot of vigor for an older guy and fucked me so good. I sucked every drop of jizz out of him with my tight tranny pussy. His load was massive! I wished I would have worn panties. He was dripping out of me all the way home. I was satisfied in more ways than one.
The next morning I got a call from Kay. She told me she had been rushed to the hospital to have surgery and just found out what her mum did. She apologised and told me we would always be friends no matter what anyone said. I was so happy to hear that. I just wished I would have known that before I fucked her dad!
Do you have a secret fetish for tranny sex? Check out this site! Promoting the hottest, horniest and the most feminine of sexy shemale babes. XXX live phone sex and mobile text chat (with uncensored photo and video swap)!