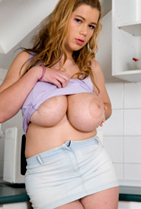 Living and working in North West London, I'm used to the faster pace of life, the hustle and bustle of city living. So when I was on my way home from work one day, squeezed up against some random guy on the busy train, I didn't think much of it.
That was until I felt the hard length of his cock pressing against my thigh! I should have been outraged, but it had been a long day and my aching pussy liked the idea of a quick release.
I pressed my heaving tits against him, ground my thigh against his aching cock and looked up at him with a look of mock innocence. He actually groaned out loud as he pressed back against me.
Mmmm Two strangers body's pressing against each other so erotically in such a public place had my pussy creaming and aching with need.
Discreetly, I reached between us and gently squeezed and massaged his huge cock through his trousers. 'Oh fuck' he muttered his cock twitching against my palm. 'Toilets' I whispered 'I need to cum'.
We pushed through the crowd to the end of the carriage an snuck into the small toilet together. Uncaring of my surroundings, I pounced on him as soon as he closed the door, kissing him hard and deep. 'Oh fuck, make me cum' I begged 'please, finger me.'
He carried on kissing me as he pushed me back against the wall and thrust his hand into my soaking wet panties. He quickly explored every inch of my drenched pussy and eased two fingers deep inside me. I gasped at the delicious stretching sensation, surprised by how on the edge I felt already.
'So tight, so wet' he whispered against my mouth. 'I'm going to cum' I replied 'oh fuck me yes, I'm going to cum all over your hand.'
His excitement grew with my dirty words, his fingers fucking me with purpose, mmmmmm fast and hard.
Mmmmmmm I bit my lip to stifle my loud moans as my pussy clamped around his fingers tightly, ohhhhhh fuck my whole body tensed with pleasure as I came against his hand.
'Fuck that was hot' he said when I returned to earth. I smiled at him as I took a seat on the closed toilet, pulling my top over my head as I sat.
He groaned again at the sight of my ginormous tits. I removed my bra, lifted them upwards, sucking one large, hard, pink nipple into my mouth. 'Oh god, let me fuck them' he pleaded and I chuckled naughtily.
He hurriedly removed his cock from his trousers, soothingly stroking the length of his throbbing shaft. He was so hard it looked painful, precum leaked from the head and I couldn't resist leaning forward and tasting him, just one teasing lick.
'Mmmm such a fucking tease' he muttered painfully, again I chuckled. Sitting back I lifted and parted my huge, sweaty tits. 'Fuck them' I ordered.
He stepped forward eagerly and I wrapped my fat, hot tits around his cock and massaged them against him as he thrust again and again into the deep cavern of my massive tits.
His hips bucked hard as I wanked him so good with my tits. Remembering how he liked my naughty words before I whispered 'Fuck my tits, cover me in your cum you sexy, dirty fucker'
'Ahhhh fuuuuuck' he cried as he came, his cock pulsating and twitching wildly between my tits. Mmmmmmmmm Thick, hot cum flew from his cock, covering my tits and dripping from my nipples.
Whilst he caught his breath and tucked his softening cock away, I lifted a cum covered nipple to my mouth, licking his taste from me. Mmmmm he tasted good!
We straightened ourselves out and cleaned up as best we could, giggling mischievously. We emerged from the toilet just as the train reached my stop, I pecked him on the cheek and skipped onto the platform, leaving him in complete awe.
For more fun with big boobed girls why not check out the home of big tits adult chat ?!