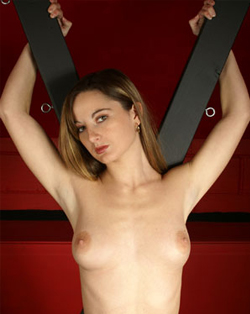 My heart skipped a beat as my Master entered the dining room I'd spent readying for his guests. A familiar warmth spread through me. Mmm…he was so sexy! I worried my bottom lip as he tied a lacy black apron around my naked body.
My Master squeezed my bare arse. "There. Turn for me slowly. Let me have a look at you, Octavia."
My Master's deep voice sent chills down my spine as I pivoted for him. I straightened my back, wanting my posture to be perfect. Knowing how important tonight was to him made my desire to please that much greater.
"Are you ready to serve?"
Mmm…I shivered as he ran his fingers over my arse. That question always made me super wet. "I am, Sir."
My Master smiled at me as the doorbell rang. "Good. Go greet our guests."
I went to the door, offering a warm smile to the two men entering our home. I knew them both, but this was the first time they'd seen me like this. "Please, come in." I stepped aside as my Master welcomed them into the dining room.
For the next hour, I served them. I kept their glasses full. I made sure they had everything they needed to enjoy the meal I'd prepared. For the most part, I was ignored. My purpose for the time being was to simply serve. I felt like a slut on display but I loved every second of it. My nipples hardened every time I caught my Master's gaze. The pleasure and hunger in his eyes kept my state of arousal at a fevered pitch.
After the dishes were cleared, I served the three men a brandy, longing for a sip myself. I was relieved when my Master finally clapped his hands and instructed dessert was to be served. This was the moment I'd been waiting for. I got on top of the table, laid back and spread my legs.
"Mmm…look how wet your slut is, Calvin."
My Master grinned. "Taste her, Peter."
Peter wasted no time, leaning in to lick my pussy. I quivered and moaned beneath his mouth, aware of my Master and Christopher toying with my breasts. I can't explain how good it felt to be touched.
"She tastes so good." Peter smacked my juicy cunt. "Christopher, you must taste."
I whimpered as Christopher moved between my thighs. He pushed two fingers into me before swirling his tongue around my clit. I sucked in a tight breath as I met my Master's steady gaze. I was so close to cumming! "Please, Master…may I cum?"
My Master chuckled. "You may."
I closed my eyes, savouring the feel of Christopher's tongue. Whorls of pleasure spun faster and faster until I mewled with pleasure, climaxing hard. I was barely aware of Christopher moving away and my Master moving me, so that my head hung off the edge of the table.
"Open your month, slut."
I obeyed my Master's command, receiving his hard cock with unabashed delight. I sucked him hungrily, knowing I was being observed by his two associates. I moaned as he groaned, swallowing his hot, sticky load the best I could. I'd barely recovered before Peter pushed his cock deep into my throat.
He face-fucked me hard. I gasped around his cock as he came, filling my mouth with more creamy spunk. I'd barely finished swallowing his load when Christopher pushed into my abused throat. Exhausted, I squealed as my Master spanked my throbbing clit.
"Give him your best, whore!"
My Master's command spurred me on. I relaxed my throat letting Christopher go in as deep as he liked. He swore as he came, moments later. Ooo…I felt so dirty, so wanton and I loved it!
I whimpered when my Master pushed his thick cock into me, fucking me hard and fast. His friends teased my nipples, sending me over the edge and I succumbed to the blissful sensations overtaking me. Tears sprang into my eyes as I climaxed. Sated, I sighed as my Master pulled out, feeling properly used and happy.
"Gentlemen, would you like a night cap?" My Master put his semi-hard cock back into his pants. He kissed my knee as Christopher and Peter both chuckled. "I'll take that as a 'yes'. Octavia, are you ready to serve?"
I wet my lips, desperate for more. "Yes, Sir!"
Octavia will please! Contact her now for 121 fetish text sex and swap nasty XXX pics! Please, Sir…let me serve you. I will make you happy I promise!