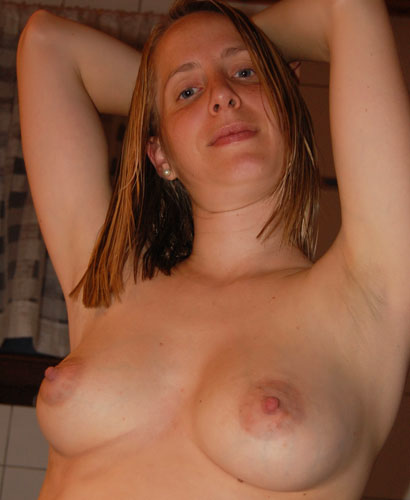 I'm a filthy little slut wife that needs to be fucked, and my husband thinks I deserve to be passed around like a common whore among his workmates. They have Friday night poker, and I spend most of the night servicing their food and drink needs, but once the game is over I service their other needs.
When they want me, my husband comes into and grabs my hair and throws me into the kitchen, so they can watch as I give them a show. I dance for them showing off my big tits and shaved pussy. They pull out their cocks and slowly begin to stroke themselves as I pull on my tits and lick my nipples.
They love as I prance around in my stockings, but the show really gets going when I pull out my vibrator and start playing with it. I put it on the floor and slowly let it enter my pussy. I love watching them as they wank – it makes my pussy sssoooo wet. Hhhhmmmm the vibrator feels sssooo goooddd as it sends waves of pleasure through my body hhhhmmmm. Some of them actually came while I was fucking myself and covered the floor in their cum. I eagerly lapped it up with my tongue, because I'm such a good slut wife!
I'm a little cunt and my husband handed out several markers to his friends and they took turns writing on me. I'm just a cheap slut and believe everything they wrote on me. Whores like me deserve to be fucked by anyone and anything, so I lay down on the bed with my legs wide opened. I rubbed my slit for them and the feelings began to build inside me. Hhhhhmmmm I want it sssoooo bad! My pussy was dripping wet and my muscles tensed as I came in front of them. Oh yeah, hhhhmmm, mmmmhhhh I want cock, fuck me, fuck me NOW!….hhhmmmm….
I was so ready for whoever wanted me first. My pussy was wet in expectation as they all came forward. Their cocks slapped my face and I began sucking each of them one by one. Ooooohhhhh they tasted ssssoo good..!! They surrounded me, and I had a hard time keeping all the cocks straight. Some of them decided to just cum in my mouth and I drank every drop.
My hubby came forward with the vibrator and made me suck his cock and the vibrator at the same time. My slut wife mouth was filled, and I gagged as he shoved his cock into my throat. He pulled me around and stuck his cock in my cunt. 'ohhh yeah, ohhh yeah, give it to me….'. With his other hand he grabbed the wet vibrator and shoved it in my arse. Mmmmhhh, ooohhhh yeeesss, this was amazing, hhmmmm. I came so hard as he filled both my holes as his friends watched and wanked from the side.
They all came as they watched him fuck my holes and every inch of the floor was covered in their milky white cum. He pulled the vibrator out of my arse and my hole was gaping. The sight was enough to put my husband over the edge and he came hard inside my pussy.
With his hot cum still dripping, I licked every drop of cum of the floor while his friends got dressed and left to go home to their wives.
Talk to slutty housewives now and find out about all the filthy sexual adventures they've been on with other men!