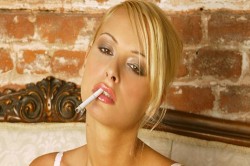 A sexy, smoking slut gets her stockings in a twist…
I had a brand new play thing coming round for some kinky fun. I was having a cigarette outside the pub last weekend when I heard a guy say 'mmmm is there anything sexier than a woman smoking?' to which I replied 'a slut smoking in nothing but stockings and heels?'
That was all it took to have the poor sap under my spell. Four days later and I was standing in front of the full length mirror, admiring my sexy shape in nothing but black, lace topped hold ups and my sexiest pair of shiney, black, patent, 6-inch heels.
I gave a slow twirl, watching how my long dark hair, cascaded down my back and my tight pink nipples hardened on my full, firm tits. He would be here any minute. I lit a cigarette and watched myself in the mirror. My full, dark red, painted lips enclosed around the tip and I sucked in the delicious taste of tobacco deep into my lungs and slowly exhaled.
Smoke billowed in front of my face and I closed my eyes, savouring the scent, the smell, the overwhelming feeling of sexiness. No, this was one bad habit I never wanted to break. The doorbell rang and I strutted to answer it.
I opened the door just as I was, stockings, heels, painted lips and a smoking cigarette in hand. The poor guy's tongue nearly fell from his mouth. Good. He was beyond horny for me. My cunt juices were leaking onto my bare thighs in anticipation, I couldn't wait to get this one inside me.
I led him straight through to the bedroom, sat on the end of my bed, crossed legged, smoking and ordered him to strip. He was naked and spread eagled on his back with in minutes. I climbed up his body, placed a stockinged knee either side of his head and lowered my aching, warm, wet cunt to his eager mouth.
I gave no instructions, just took what I needed, mmmm I rode his mouth fast and so fucking hard. 'Ohhhh ohhhhh yes! Fuck, fuck! Yes!' I cried 'Oh yeah, I'm going to fucking cum in your mouth' I told him and it only deepened his hunger, he ate my cunt like a man starved.
'Ohhhhh ohhhhhh fuck yesssssss' mmmmmmmmm I coated his tongue, his lips, his face with my delicious cum and he fucking loved it. He reached for me and I took a step back, slipped off my heels and made him watch as I slowly peeled each stocking down my long, toned, tanned legs.
I straddled him, my sated went cunt rubbing against his bare stomach as I tied his wrists to the bed with each stocking. Perfect. I moved between his legs and lit another cigarette. With each deep pull I inhaled I blew the thick, warm smoke directly onto his straining rock hard cock and tight aching balls.
'Oh fuck, that's so fucking hot!' he moaned. Again and again I inhale and exhaled the smoke onto his cock and balls watching in fascination as he squirmed and lifted his hips seeking more and more. By the time I stubbed out the cigarette he was begging. 'Please, please fuck me'.
But I didn't want to fuck him, not yet. I wanted to taste the smokiness from his throbbing shaft. I traced my tongue from the bottom of his ball sack to the leaking tip of his cock. Mmmmmmm it tasted so fucking good. I stretched my lips wide and lowered my face to his groin, swallowing every thick, throbbing inch of his cock as I went.
He fucked himself into my face as hard as he could, but the restraints kept him under my complete control. He wouldn't cum until I was ready! And I wanted to play. Mmmmmm I sucked, licked and drooled all over that cock until he was mindless with need.
When he was rampant and filled with nothing but the need to fuck and fuck hard, I untied him. Oh fuck yeah, he was on me and in me in seconds. My head pinned to the bed by an iron hard fist in my hair, my arse up, my cunt spread open and his cock pounding into me from behind.
All the while he fucked me like a crazed man, he told me what a fucking nasty, dirty, cock teasing slut I am, mmmmmmm fuck yes that's how I like. Hard, rough, deep, making me fucking scream and my cunt clench.
I felt him spasm deep inside me and he pulled out quickly, spurting the last of his hot, thick cum onto my arse hole, using his thumb to rub it into my tight hole. So fucking dirty and I couldn't stop myself from cumming with him, again and again, until there wasn't a drop left for either of us to give.
Afterwards we lay back, smiling and lit a couple of ciggies!