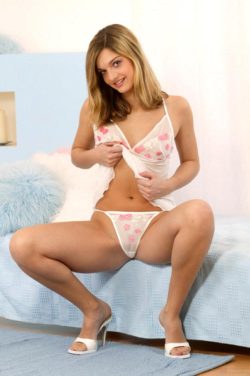 Barely legal babe practices her blow job skills…
I was strolling along one day, lost in my own little world, taking in all the sights and sounds and popping in and out of a few shops. When I turned a corner and something caught my eye in an alleyway.
It was pretty dim as dusk was approaching, but I could clearly make out the shadows of two figures. A man stood, with his back against the wall, a woman was on her knees in front of him, her mouth securely wrapped around his cock.
My mouth fell open and I couldn't help but blush. My word…She was giving him a blow job..right there in the alley way! I couldn't believe it, I was transfixed.
Quietly, I stepped a little closer. Mmmmm The woman's head bobbed frantically, the man's hands were in her hair, forcing her down onto his cock harder as he thoroughly fucked her face.
Slurping, sucking and grunting sounds filled the small entry. I could just make out his voice… 'Ahhhh yeah, I'm gonna cum baby. I'm gonna fill your fucking slutty throat with cum, you dirty bitch. Ahhh ahhhhhh'
I gasped at his filthy words and the sight of him bucking hard against her face. I saw her throat muscles work as she swallowed again and again. My mouth watered with envy. Mmmmmmm I wanted to taste him, I wanted to be used, just like that!
I hurried away before I was spotted. All the way home on the bus, my poor wet pussy ached. I couldn't get the image of them out of my mind. I'd dabbled a little with blow jobs before and I wasn't exactly a virgin, but I'd never done anything as….raw, as that.
Later that night I went to visit a guy I'd been at college with. He was a couple of years older and we'd had sex once or twice before. Tonight though, I was a girl on a mission.
We were snuggled up together on the sofa when I politely asked 'Can I give you a blow job?'. He almost choked with shock, but replied 'Errrr sure!'
I jumped up, excited and giddy. I pulled my shirt over my head, removed my bra, revealing my small, pert tits and tied my hair back in a ponytail.
He lowered his jeans and boxer shorts, his fat, throbbing cock springing upwards towards my eager waiting mouth.
Mmmmmmm I ravaged his cock hungrily with my wet, warm mouth. Coating every single hard inch of him with my tongue before stroking his shaft and suckling the head gently.
I'd never put my mouth on his cock before, he seemed to really like it. His hands were clenched into fists by his sides and I sensed he was trying hard not to thrust into me, afraid that the slightest thing might spook me and cause me to stop.
I didn't want nicey, nicey and gentle. I wanted what I had seen in that alley today. I sat back a little, took his hand, placed it on the back of my head and said 'Fuck my face.'
Mmmmmmm I stretched my mouth wide and sank my face to his groin, engulfing his whole length in my mouth. Mmmmm I liked how he tasted, liked how my jaw and my pussy ached, liked how sexy it was making me feel.
I raised my head, pulling my lips taught as they passed over the prominent ridge, then sank back down again. I did it again and again until finally he lost a little of his control. Ohhhhh he groaned and whimpered, lifting his hips, thrusting his cock into my mouth over and over, tugging on my hair.
Mmmmmm I sucked a little harder and he bucked, his taste growing more potent as he drew nearer. I felt the first tiny spurt of cum leave him, his cock twitching madly. He gripped my hair almost painfully, trying to move me out of the way.
Ohhhhh I wasn't going anywhere, I wanted a mouth full of cum. I sucked hard, taking his cock fully to the back of my throat. Ohhhhhhh mmmmmm Spurt after spurt of hot, thick cum flew from his pulsating cock and I swallowed hungrily, just like the woman I'd seen earlier. Mmmmmmm yeah, Again and again I swallowed around him, guzziling every last drop.
'Jesus' he said when I'd finished 'Where did you learn to do THAT?' I just giggled shyly and climbed back onto the sofa beside him feeling very accomplished….and sexy!
Want to see more of Marie? Why not check out her text profile?