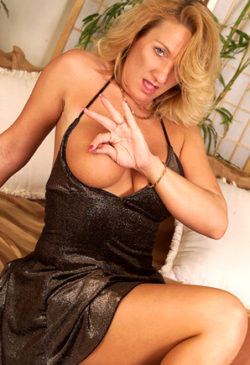 I'd just got out of the shower one afternoon. I was applying moisturiser to my body, as was my routine and admiring myself in my bedroom's full length mirror. I really am in good shape for my age. A sexy, fuckable MILF, blonde, tanned, with tits still full and firm, it was no wonder I was never short of a fuck buddy or two.
I continued rubbing the lotion into my skin, taking extra time on my tits. Mmmmm I loved teasing my nipples. I was making myself hot. Just as I decided to have a little play and slipped my one hand between my thighs to my wet pussy, the other still teasing my hard nipple, I sensed I was being watched.
It was then I remembered the day, it was the day the window cleaners were on their rounds. I knew the guy well, Tom, it'd been his round for a few years now. I always tried to give him a little treat when he was about. Sometimes strolling about in a towel, or leaving my underwear hanging in my room for him to see.
It was just a bit of fun, a little game I liked to play with him. Never had he seen me like this though. Stark naked, finger fucking myself in front of the mirror, my husband just downstairs.
I glanced up and met his reflection in the glass. His eyes were glued to where my fingers were sliding in and out of my wet cunt, glistening with my juices. Slowly, deliberately I brought them to my mouth, keeping eye contact with him while I licked and sucked the juice from them.
He nodded to the handle of the window, gesturing for me to let him in. I quietly closed the bedroom door, went to the window and opened it wide. He climbed inside, within seconds his hands were all over me. He buried two fingers in my pussy while he kissed me, hard and deep.
He pushed me back onto the bed, his hard cock pressing against my hot, wet pussy. Grinding against my swollen clit. Mmmmmm I couldn't help but groan, it felt so fucking good. He put a hand over my mouth to silence me and used his other hand to free his cock.
I spread my legs far apart, raised my knees, tilted my pelvis and helped guide his cock inside. 'I'm going to take my hand away now' he whispered 'and I'm going to fuck you hard, do not make a sound'.
I bit my lip and nodded. He pulled back a little, put his hands on my knees, spreading me open even further and thrust his hips forward. Oh god again and again he thrust hard, deep, fucking me so good.
I bit into the back of my hand so I didn't scream. With my other hand I wanked my clit. The faster and harder he fucked me, the faster and harder I strummed. I was so wet, he was so hard, we both knew we could be caught at any moment, which just made it hotter!
I clenched my pussy tight and he swore. His hips bucked, his cocked throbbed and we both came, hard. He buried his face in my tits as he shot his load inside me, his hands tightly gripping my arse cheeks as he did, my pussy gushed and clenched even more in response.
Mmmmmm we both lay there for a moment, panting and smiling. Until we heard my husband call up the stairs! We giggled like teenagers as he fumbled to put his cock away and climb back out of the window.
I grabbed my dressing gown, strolled down the stairs and replied 'Yes dear?' as if I hadn't just fucked the window cleaner on our bed. I loved the naughty feeling of fucking and misbehaving right under his nose, it certainly gave me a taste for much more, I'm such a naughty MILF!
You can contact a horny, wet MILF day or night, 24-7! They're wet, willing and waiting…