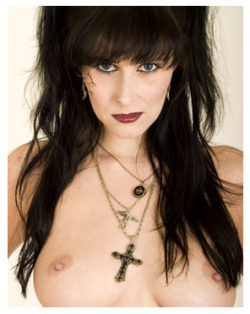 Kinky nympho seduces unsuspecting business man in public…
I've always been a right kinky bitch, I get a buzz out of seeing a flash of fear in a mans eyes when they realise they're about to get owned by Kinkster. I love those shy, innocent types, you know the refined business man who secretly wants to get absolutely fucking filthy? I can spot them a mile off.
I'll never forget this one dark, rainy night, I was on my way to a fetish party in my tightest, shortest black rubber dress. I wore a full length overcoat too of course. I was jumping the bus, I'm a rebel and all, but I didn't want to be causing any riots!
It was late and the last bus was at least another 20 minute wait. A man was waiting too, he was all suited and booted, carrying a briefcase and looking slightly uncomfortable at my eyes eating him up. I made casual conversation and he stuttered through his replies, trying his hardest not to make eye contact.
'You know' I said 'I love the feel of the rain on my skin' I couldn't help myself I wanted a piece of this guy and I knew just how to get it. I slowly opened my coat and arched my back, offering my face and busty cleavage up to the cool rain droplets. Water trickled down my tight rubber dress and he watched, fixated.
I stood close to him and whispered 'What do you like the feel of Mr?' I gently massaged his hard cock through his suit trousers and performed my favourite trick with my free hand. I eased my handcuffs from my coat pocket and swiftly cuffed his wrist to the bus stop.
Ahhh there it was, that beautiful flash of fear, I pressed my lips against the racing pulse in his neck and continued soothing his straining cock. 'Mmmmmm you're so hard' I said softly 'You want me…' he nodded 'You want to be owned by Kinkster…' again he nodded.
'On your knees' I ordered, he paused for a second, but soon did as he was told. I peeled my rubber dress up to my hips, revealing my smooth, soaking slit. 'Eat my cunt posh boy' I demanded and pushed his face into my dripping pussy.
Mmmmmmmm that man ate me like he'd been starved for years! I came all over his eager mouth, coating his face in my sweet juices. 'Stand' I ordered. I licked at my juices running down his chin as I unzipped his trousers. Ohhhh my his cock was throbbing, leaking, so thick, so hard. I spread his precum over and around the pulsating head and stroked his shaft, firm and tight. His eyes closed with the pleasure and he groaned, I stoppped.
'Look at me!' I barked 'You keep your eyes on me. I want you to know who owns this cock right now, know who's going to make you cum, so fucking hard, right here at the bus stop, like the filthy little fucker you are.'
His eyes locked on mine, his chest rose and fell with panting breaths, he bit into his lower lip, his thighs tensed, eyes widened…and mmmmmm mmmmm a thick, warm load landed in my palm. He kept his eyes on me as I brought my palm to my mouth and licked through the creamy hot cum in my hand.
'Oh fuck' he muttered as I smiled at the delicious taste. 'Oh fuck indeed' I replied. Headlights shone brightly on us and I just had time to tuck his cock away and uncuff him as the bus approached.
I sat away from him and revelled in the smile I'd put on his face, oh yeah, he'd loved getting owned by Kinkster alright.
Fancy getting owned by Kinkster yourself? Or are you just looking for kinky women for some kinky sex text? Then look no further my friends…