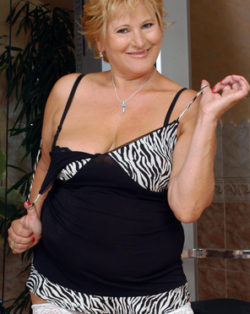 I've always had a thing for younger men. Even my late husband was two years younger than me. Lately, I've been fucking men at least twenty years my junior. I'm always on the lookout for a new toy boy to fuck. Well, I knew my dashing instructor would be my next lover the moment I walked into my ceramic class. There was a chance he wouldn't give me the time of day given our age difference but I was still determined to seduce him.
I waited until the class was over to make my move. Mmm…I wiggled my bum on my stool supremely conscious of my wet knickers. Just listening to my instructor's deep voice had turned me on. I drew in a breath as he closed the classroom door then turned to look at me with a quizzical look on his handsome face.
"Gertrude, is there a problem?"
I giggled, amused by his innocent question and my dirty plan. "There is Mr. Scott." I wet my bottom lip as I swiveled on my chair to face him.
"Please, call me, Ted." Ted walked over to me and my nipples hardened as he glanced at the plunging neckline of my navy dress. "How can I help you?"
"Well, Ted…" I flashed him a seductive smile. "You could help me by letting me suck your cock. You see, I can't stop thinking about how you taste. I need to taste your cum then I will be able to focus in your class."
Ted's green eyes sparkled as he studied me. "Hmmm…Is that so, Gertrude?"
"Yes. Please, please let me taste you." Ohhhh…My heart was pounding as Ted reached out to squeeze my tit. "Mmmm…oh, yes. Touch me." I moaned again as he tweaked my nipple through my dress.
"You're such a dirty slut, Gertrude." Ted reached down to unbutton then unzip his pants. "Tell you what? I'm going to help you. You're going to suck my fucking cock until I'm good and ready to cum. No whining. Understood?"
I nodded as he pulled out his thick cock. My eyes widened. He was bigger than I'd imagined. Mmmm…My mouth watered at the prospect of taking him in deep.
"Get on your knees, whore." Ted stroked his dick and waited for me to scoot off my stool and fall to my knees in front of him. He pushed his hands into my hair and roughly angled my face up to his. "Open your mouth."
I parted my lips and moaned with pleasure as he shoved his cock between my lips. His hard length stretched my mouth and I loved it. I gagged as he began throat-fucking me with gleeful abandon. It was too much! He was so hard and big!
"Fuuuuuck! Ahhhh…..that's it. Take it. You wanted it. Let me use you. Open your goddamned throat for me."
I blinked back tears then gave up trying to hold them back as Ted face-fucked me. I slipped my hand beneath the hemline of my dress to caress my bare pussy. I was so fucking wet! My clit throbbed with the need to cum.
"Jesus, Gertrude! I'm gonna blow my load and you're going to swallow every drop!"
He didn't have to worry. I needed to drink him in. I rubbed my clit faster, wanting to climax with him. I squealed as my orgasm broke over me and Ted groaned. He spurted his hot sticky load deep into my throat and I hungrily swallowed every drop he had to give. Mmmm…He tasted even better than I'd imagined. We were both breathless as he pulled his slick cock out of my mouth.
Ted shook his head as he slipped his dick back into his pants. "You are something else, Gertrude. Are you going to be my star pupil now going forward?"
I laughed, still shivering from the delicious aftershocks of my climax. "Yes, I promise."
Ted helped me up. "That was fucking amazing. The women I fool around with would be too shy to ever do something like that to me."
"Maybe you should try fucking an older woman." I brought my pussy-drenched fingers up to my mouth and licked them, savouring the lingering taste of his cum and mine.
Ted grinned as he reached for my sticky hand. "Maybe I should."
I watched him swirl his tongue around my wet fingers knowing without a shadow of a doubt he would!
Craving a dirty chat with a horny GILF? Call or Text ME for some filthy fun! I love hot phone sex and swapping nasty pics!