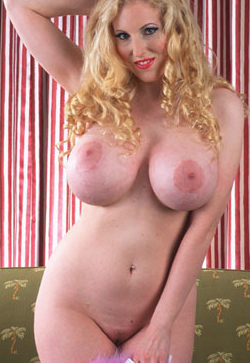 MILF Glamour Model Puts on a Show For the Camera…
It's no secret, I'm a total exhibitionist. Any excuse to get my big wobbly tits out and I'm there! I love my work in glamour modelling, having photographer's practically drooling over my tits as I show off in front of the camera never fails to make my silky smooth pussy wet.
A few months back I was on a shoot with a particularly horny photographer, he couldn't keep his hands off me. Any excuse to stroke a finger against my skin or to put me into the exact positions he wanted, he even helped me out of my bra for the topless shots.
I was sure I heard him groan as my massive tits fell free. I took them in my hands and looked directly down the camera as I brought one deliciously pink nipple towards my lips. I licked it delicately before suckling it into my mouth.
Mmmmm I felt my pussy clench as I sucked. I could see his cock thickening beneath his trousers and I fucking loved it. He hadn't asked me to do it, I just felt so hot, so sexy, I needed something more.
He asked me to sit on the sofa behind me and spread my thighs. All I had on now were a skimpy pair of panties and as I parted my knees I knew he'd be able to see how how wet they were. He swore at the sight of my damp spot.
I carried on playing with my tits, but soon the aching in my clit was too much to bear. I eased one hand into my panties and slowly began to tease myself. Mmmmmmm it felt so fucking good, I was so horny, so wet, my clit was so swollen.
I almost forgot he was there until I felt his breath against my thigh. He was on his knees, still clicking away. I smiled as I slipped my panties off and let him see me. I let him watch as I eased two fingers deep inside my sweet, juicy cunt.
I fucked myself with my fingers and he licked his lips. 'Lick me' I whispered to him 'put the camera down and lick my cunt.'
He did as I asked and ohhhh god, those long, firm licks drove me wild. He pushed his tongue inside my cunt and I grabbed the back of his head, pulling him deeper still.
'Oh yes, oh god!' I cried 'Lick me, lick me!'
He licked my lips and my clit, his face was coated in my cunt juices, then his fingers replaced his mouth. He fingered my tight, wet MILF hole as he feasted on my tits. I rode his hand as hard as I could, each hard suck on my titties bringing me closer and closer to the edge…
'I have to fuck them' he muttered and before I could miss his mouth his trousers were around his ankles and his cock was being buried in my firm tits over and over again.
I tilted my head forward, hungry for a taste of that juicy dick. I outstretched my tongue and lapped at his precum with every thrust through my tits. I wanked his thick shaft with my tits until I could feel him twitching and throbbing wildly. He was going to cum all over my tits and face I thought…
But then he spun me around and bent me over the sofa. Oh good god he rammed his cock deep inside my cunt, pulling my head back by my hair. My heavy tits swayed as he pounded me with his cock over and over again.
'Oh yeah baby, fuck me, fuck me!' I screamed 'fuck me nasty, fuck me hard. I'm a dirty little slut, fuck me, oh god yes…more..more! Harder!'
He fucked me like a wild man, hard, fast and deep, but I wanted it harder, faster and dirtier…
'My arse' I told him 'stick a finger in my arse!'
'Oh you fucking dirty whore' he said, but he did as I asked…he eased a spit covered finger into my tight, clenching arse hole and I came all over his cock, screaming, sweating and creaming all over him, even his balls dripped with my juices.
When I finally finished he eased his cock from my cunt and his finger from my arse…my tight hole still gaped a little and he eased his head against my hot, tight arse as he wanked himself violently.
'Oh yeah baby' I said 'coat my dirty little hole with your load….cum for me'
Mmmmmmmm I felt hot, thick splashes of spunk land against my sensitive arse hole. Spurt after warm spurt until he collapsed against my back.
We were a hot, sweaty, spunky mess and I needed a shower, but he had had other ideas. He told me my arse oozing with his cum was the hottest thing he'd ever seen and he reached for his camera. Well, I couldn't deny him after the fucking he'd just given me now could I?
Does Bianca sound like your type of MILF? Why not text her for some titty pics?