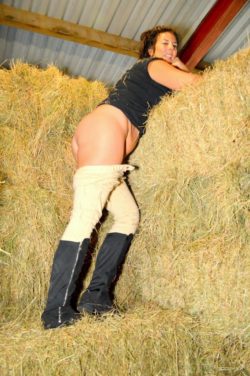 I close the stall door on my horse and swipe my brow. I'm hot and sweaty from riding but also horny as hell from the constant bumping against my clit as I had trot back in. I open my shirt wider to get some air to my chest and my massive tits strain against the fabric. The stable boy comes in, I can't remember his name but he knows who I am and he's staring right at my chest. I cough to get his attention and he blushed while stuttering, trying to ask if I need a hand.
'I could do with a hand… Tongue… and Cock,' I purr seductively. He gulps audibly looking confused, but I notice the tell-tale bulge appearing in his tight jodhpurs, he's putty in my very capable hands.
I undo the rest of the buttons, freeing my tits and hot pink bra to his gaze. My jodhpurs come next, sliding down over my arse after I've kicked off my riding boots. He hasn't ran away yet, so I quickly unclasp my bar and slide my undies down kicking them off in his direction.
I slip a finger into my mouth getting it nice and wet. It trails down my next, circles my rosy nipple, then continues down before it dips in my wet folds. I finger fuck myself as he stands watching, a look of awe on his beautiful face.
'Come on then.' I command, standing completely bare in front of the piles of hay. He needs no further prompting as he quickly removes his clothes, leaving his young virile body ready for me to use.
I push him down into the hay forcefully and climb aboard straddling his hips, his cock jutting to brush across my glistening pussy. I planned to keep control and drag out the teasing pleasure but he shocks me by taking control and yanking me down his hard length.
I gasp as he groans and I circle my hips feeling his girth inside of me. I can wait no longer and decide to ride him like I had my horse, hard and fast. Hay flies all around us as we fuck like animals on the floor. He grabs my tits and pinches my nipples just the way I like it and I cum has he empties his load deep inside me.
He tries to steal a kiss but I push him away. The boy has a lot to learn and as I eye up my crop hanging by the door, I relish the thought of teaching him.
Normally you have to share these babes with everyone else when you call their TV hotline, now you get them all to yourself, you lucky, lucky boy. They have many more kinky stories to share, so why not give them a call?