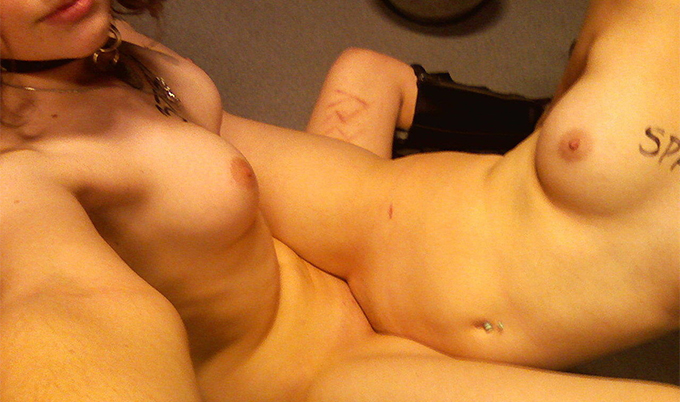 I was staying with my brother and his girlfriend Molli for a few weeks because there was a problem with my housing at uni. Molli was the prettiest girl I had ever seen. She had thick, wavy dirty-blond hair, that draped her shoulders perfectly. Her smile was gorgeous and her body was amazing! She could definitely do a lot better than my brother in my opinion.
Me and Molli spent a lot of time together because my brother was always working, or so he claimed. We got so close I told her something I never told anybody before- I like girls and even though I had watched a lot of hot lesbian scissoring porn, I had never actually been with one. She gave me a big hug and said, 'your secret's safe with me, Jess'.
On my last night there, I couldn't sleep. I was tossing and turning for hours and then I realised what was wrong. I had a crush on my brother's girlfriend. I was laying in the bed, staring at the ceiling, thinking about this when she came to the door and asked if I was sleeping. I told her no and she came in and sat next to me on the bed. She held out her phone and showed me some Facebook messages and said, "he's cheating on me."
I tried to comfort her and tell her that I was sorry. She said she should have known because he's never there just like now. Then she got really quiet. I asked her if she was okay and she leaned over and kissed me. I wanted to tell her stop but she tasted so good. I tried again when she pulled my t-shirt over my head. I wanted to say we couldn't do this because she was my brother's girlfriend but by the time she spread my legs apart, I forgot I even had a brother.
She pushed my legs back so that my pussy was exposed and sticking straight up in the air and lowered her pussy onto mine. Our pussy lips kissed gently and then she pulled back. I let out a moan and she lowered her pussy back down, then quickly pulled it back again. Each time our pussies kissed, I got wetter. Soon, both of our pussies were slick and she started swinging her hips back and forth making her cunt glide against mine. I couldn't make a sound. I was paralyzed with pleasure. She started swinging her hips faster. Her pussy was in a frenzy. I could feel how big her clit had grown and every time it slid across mine, fireworks went off in my cunt.
She took my hands and placed them on her arse and I held on to her beautiful bum as she dug her pussy into mine harder and faster. I was mesmerised by her beautiful tits and upturned nipples. It's like she read my mind because she leaned down and fed them to me. As soon as I felt the rubbery texture of her nipples in my mouth, my whole body caught on fire. She looked at me and said, 'cum on my pussy', and I did.
That was our first and only encounter. I guess my brother realised what an awesome girl Molli is. They're getting married next month. Me and my new girlfriend are invited. If the idea of sexy lesbian scissoring or sexy lesbian anything turns you on, check out this cheap lesbian chat line.