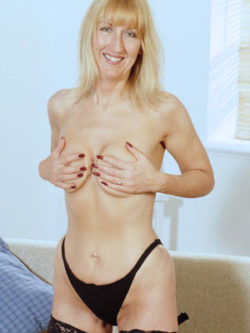 Slutty MILF slags it up at hubby's work do…
The only thing I like about formal gatherings is being able to get tarted up and hopefully get my hungry old cunt fucked while hubby goes off and smokes a cigar somewhere.
The last one we attended, before he changed jobs, I was done up to the nines and feeling filthy as fuck.
I wore a tight fitting, long dress and knew I looked ohhh so fuckable. My husband was off somewhere with the good old boys, so I decided to amuse myself, by slipping off to the bathroom and slipping my panties off.
Of course I had a little play with my pussy while I was in there mmmmmmm God I was so fucking wet, so hot.
When I came back out, my cheeks were rosy, my pussy and thighs damp and my panties were in my sleek little clutch bag. I was making my way back to the main reception room, when a door to my right opened. A hand grabbed my wrist, pulled me inside and the door closed behind me!
It took me a moment to get my bearings, I was in my husbands boss's private study, with my husband's boss looking at me like I was the main course. He didn't speak, just pushed me back against the door and began kissing me, hard, rough and deep.
Mmmmmmm I groaned into his kiss, I could feel his hard cock pressing against my stomach. 'I have to fuck you' he said 'right here, right now!'. He didn't wait for an answer, just dropped his trousers, rolled my dress up to my waist, groaning at the sight of my naked, wet pussy.
I spread my thighs wide,ohhhhhh how my pussy ached to be filled. He buried two fingers into my soaking wet pussy, so hard I almost screamed! Ohhhhh fuck he was fucking me so hard, so deep with his fingers, I was going to cum all over his hand before he even got his cock inside me!
He finger fucked me until I was a panting, quivering mess, desperate to be fucked.
Ohhhhh fuck, then he lifted me by my arse cheeks and slid his cock deep inside my pussy. Mmmmmm fuck it felt good, he was large, thicker and longer than my husband, my lips moulded around his cock perfectly.
He fucked me then, hard. The force from every thrust slamming me back against the heavy door. He put one hand over my mouth to muffle my screams and whimpers. I was going to cum, cum all over my husbands boss's cock while he was just in the next room.
Mmmmmm yeah that naughty thought sent me over. My pussy clenched hard as I came and gushed, coating his cock with my cum. 'Oh yes' he said 'coat me, cover my cock with your cum you dirty old bitch.' ohhhh yeah his filthy words made my orgasm last even longer.
'Ohh ohhhh yes fuck me, fill me!! Fill my cunt, fill me, cum for me!!! I cried. He put both hands back on my arse, squeezing hard as he slammed into me one last time, his cock twitching violently as he came, ohhhhhh filling me with squirt after squirt of hot, thick cum mmmmmmmm.
He pulled out, used a handkerchief to clean his cock and pulled his trousers back up. I followed suit, struggling to catch my breath. Not knowing what else to use, I pulled my panties from my bag and used them to wipe the cum from my pussy and thighs.
He watched and said 'Oh my god, you really are a dirty, old gilf aren't you?' I just smiled and went about finishing my task. When I finished I looked around for a bin, but I needn't have bothered, he took the panties from my hand, tucked them into his pocket and offered me his hand. 'Shall we?' he said.
I took his hand and he led me back into the main room, my husband came over and grumpily complained how he'd been looking for me. 'My apologies good man' his boss said 'it seems your good lady got a little lost on her way back from the bathroom, but don't you worry, I sorted her right out' and with that he patted my husband on the back and got back to his party, mmmmmm my cum soaked panties still in his pocket.