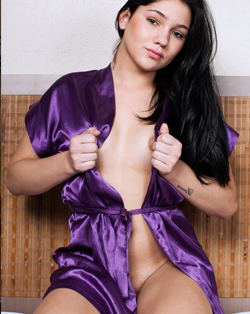 I checked my appearance in the mirror for the thousandth time. My sexy internet lover would be at my door any second and I was so damn nervous! I still couldn't believe I'd agreed to meet Brad after only chatting online and over the phone. We'd been swapping pics and sharing dirty secrets with one another for only two months. Would they have the same chemistry in person?
My heart raced as my bell rang. I was soon going to find out! My black stilettos clicking loudly over the wood floor as I hurried to answer the door. I couldn't stop grinning as I met Brad's hungry gaze. Mmmm…My cock stiffened with need. He was as handsome as his picture. "Hello, Brad."
"Nita." Brad's smile was as wide as mine. "You're even more beautiful in person, Nita."
"Thank you. Please come in." A rush of desire zinged through me as he stepped past me and I closed the door. I turned around and gasped when he snaked his arm around my waist and pulled me against him. "Brad!" I moaned as he kissed me, delighted to discover his dick was as hard as mine.
"I'm sorry, babe." Brad hiked up my dress as he pushed me against the door. "I can't wait to taste you."
"Likewise," I said with a little giggle. My nipples hardened as Brad's gaze dropped from mine to my exposed cock. He wrapped his hand around my dick. Ahhh….it felt amazing having him wank my cock.
I imagined I'd be the one to make a move, especially since this was Brad's first time with a shemale. His bold touch thrilled me! The tip of my cock was slick with precum. "Ohhhhhh….fuck! You've got me so turned on Brad."
Brad winked at me as he pushed down the top of my strapless pink mini dress, baring my big tits. "Mmm…you are fucking perfect, Nita."
Oooooo…I gasped as he tweaked my nipples with one hand and stroked me with another. I had to concentrate on not blowing my load right then and there! Thankfully, Brad stopped toying with my boobs. He gave me another hard kiss before dropping to his knees in front of me. "Ohhhh…Brad!" I squealed as he took my cock into his warm mouth.
My head fell back with a thud against the door as he began sucking my dick like he'd been a cocksucker all of his life! My knees buckled as he hungrily deep-throated my cock. Mmmm…he was so good with his tongue! "Fuuuuccck! I'm going to cum, baby!"
My husky declaration only made him work my hard length in and out of his mouth faster! "Ahhhh….Brad!" I started to pull my throbbing dick from between his lips but Brad gripped my arse and held me in place as I began spurting my spunk into his mouth. Mmmm…watching him swallow my load was almost as delicious as the feel of him doing it!
Breathless with passion, I blinked at him as he stood and kissed me. Oooo…I loved the taste of my cum on his lips!
"I've got to fuck you now, Nita." Brad turned me around to face the door without waiting for me to reply.
I heard his zipper then felt the head of his thick cock against my ass. I groaned in need as he gave me a few teasing strokes between my bum cheeks.
"Stick that gorgeous arse out and open it for me."
I did as Brad asked, bracing my forehead against the door to do so. "Ohhhhhh, my god!" I sucked in a tight breath as Brad rimmed my asshole with his hot tongue. My semi-erect cock twitched as he tongue-fucked my tight little hole. Mmmm….it felt so good! "Please, Brad fuck me now!"
Brad didn't hesitate. I felt him straighten behind me then he was guiding his big dick into my arse. I mewled as he stretched me, inch by glorious inch! "Ahhhh…your cock is so thick!"
Brad responded by pushing balls deep into me. "You're so fucking tight, Nita!"
I placed my hands on the doorframe, moaning with each deep thrust he gave me. He fucked me hard, just the way I liked it, making my tits bounce. The elicit sound of his grunts and balls slapping against my bum echoed in the room.
"Jesus, Nita! I'm sorry I can't hold back!"
I smiled as he emptied his load deep into my arse. There was no need for apologises…we had all night!
Text sex a shemale now for the ultimate filthy experience! I'm a horny chick with a dick! MESSAGE ME for a hot chat and pics!