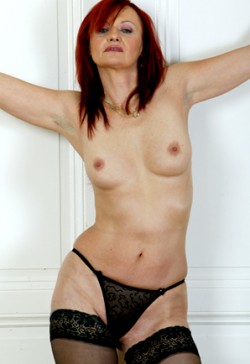 Being a sexy, kinky GILF, I'm never short of admirers. Young and old, they all want a taste of my sweet pussy and my naughty ways!
So it was no surprise when I went into my local one friday night and the new 30 something landlord was flirting with me all night long.
I was enjoying a couple of quiet drinks with friends, a few games of pool and strutting my stuff on the dance floor when he first approached me. He told me how sexy he thought I was and he couldn't believe with firm tits and a slender waist like mine that I was 52.
It's something I hear often, but I never grow tired of hearing it. I love feeling desired and wanted by men of all ages. This guy thought he was jack the lad, flirting with all the women and acting the man. I smiled devilishly to myself, poor guy didn't know what he had coming if I decided to take him to my bed tonight!
As it happens I never made it to my bed. It was nearly kicking out time, the bell rang for last orders and I nipped to the loo before I had to think about calling a cab and getting home. It didn't seem like I was in there that long, just a quick freshen up, but when I came back out, the bar was empty and he was locking the doors.
He turned to me with a sexy smirk and said 'Oh sorry, I thought everyone had gone' we both knew he'd been watching my every move that night and there was no way he'd missed me strutting past the bar in my skin tight, short, black dress 5 minutes earlier.
'No problem' I answered 'I'll be on my way' I smiled at the look on his face, oh I knew just how to play his game.
'Errrr how about a nightcap before you head off?' he offered
'No thanks' I answered and he looked a little confused 'Although' I continued 'If you want to offer a horny GILF some hot, filthy sex bent over your pool table…..I might consider hanging around a while.'
The atmosphere buzzed with sexual chemistry as he made his move towards me. His hands went straight to my firm, braless tits, squeezing and teasing them through the thin material of my dress as his mouth found mine. My nipples were rock hard and sensitive. Every touch, every tweak had my pussy creaming and clenching.
Mmmmmm I put my arms around his neck and wrapped my legs around his waist. He carried me to the pool table. Ohhhhhh every step he took had his bulging, hard cock rubbing against my aching pussy.
He sat me down on the edge and I lay back, my thighs spread wide, revealing my sodden, skimpy, silk panties.
My back arched and I cried out as he buried his face between my thighs, licking and sucking me through the soaked material.
When he pulled the material to the side, wrapped his lips around my swollen, throbbing clit and sucked I swore 'Oh fuuuuuuck yes, eat my cunt you dirty bastard!' within minutes ohhhhhhhhh fuckkkkkk I was cumming so hard, filling his mouth with my delicious juices. He made a sexy growling 'mmmmm' sound as he sucked and licked the last of my orgasm from me.
I gave a long, satisfied sigh, before jumping to my feet, bending over the pool table, pulling my panties to the side and saying 'Now fuck me. Hard.'
He wasted no time dropping his jeans and shorts. His thick, long cock twitching between us with excitement. I put my face down, my arse up and gasped as he began to fill my pussy. He held still for a moment, both of us groaning in pleasure, then he began to fuck me, fuck me hard.
'Oh yes fuck me!' I screamed 'fuck me like the filthy cum slut I am. Fuck me, fill me!' My words sent him wild. His deep, hard thrusts quickened. Ohhhhhh yeah, I could feel his cock throbbing as he used and abused my granny cunt. His hold on my hips tightened, he bucked against my arse frantically as he came, pumping his load deep inside me.
He collapsed against my back, cum oozing from me as his cock began to soften.
Mmmmm how I love hot, frantic, dirty sex, it keeps me feeling young!
Like your fanny mature and filthy? Text a GILF!