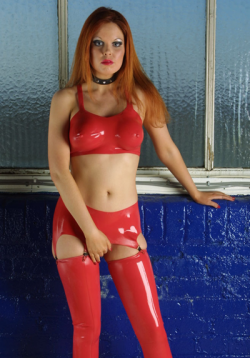 Name: Erin
Age: 29
What is your confession? I'm obsessed with Latex! How it smells, how it feels against my skin and how sexy it makes me look! It transforms me from your average girl next door into a sexy Erin! Just as my delivery guy found out…
"I was pottering around in my front garden, when I spotted a delivery van pull up outside. My heart began to race, I had ordered a new latex skirt and vest and couldn't wait to try them on!
I rushed to the gate to meet the delivery guy, hardly able to contain my excitement! He chuckled and asked if I'd ordered anything nice. I told him it was a new outfit, a latex outfit. He looked interested and eyed me up and down. 'What!?' I asked 'never met a girl who likes to dress in latex and rubber!?'
'Rubberist?' he asked, my excitement grew at the mention of the word 'rubber', I nodded. He told me how he was also a fan and was even a member of a local fetish group! 'I'd love to see you in your outfits sometime' he said 'In fact this was my last drop for the day, if you'd like a second opinion on your latest addition'.
Hell yes I would! I led him into my specialised dressing room, where all manner of rubber and latex outfits, masks, shoes and boots surrounded us. 'Wow' he said simply, as he sat on the bench in the middle of the room. He opened my parcel for me and I started stripping out of my clothes without hesitation.
I stood before him naked, he took the first item out of the box, the latex skirt and knelt at my feet. I stepped into it, slowly, holding my breath. He carefully pulled it up to my thighs, helped me wriggle into it and zipped me from the back. 'How does it feel?' he asked, his breathing heavy on the back of my neck. 'Mmmmm' was all I could manage.
My thighs were coated with my juices already, he must have noticed when he'd helped me into the skirt. He helped me into the vest next, ohhhhhhh it was tight, like a second skin. I loved the tightness, it was the hottest kind of sexy bondage for me. I completed the look with my favourite latex thigh high stockings. He told me how fuckable I looked and I asked him if he'd wear something for me, a rubber mask, he agreed straight away.
I fastened the mask around his head while he knelt in front of me. I could feel the warmth of his heavy breaths through the latex. The mask had openings for the eyes, nose and mouth. I asked him if it felt good, he nodded, I brought his hands to my ankles and he asked if he could touch me, of course I gave him permission.
He started at the ankles, working his way up slowly he explored every inch of latex on my body, before moving to my naked thighs. He hitched the skirt up to my waist and asked permission to touch me, taste me. Again I nodded. His palms spread over the cheeks of my arse. His fingers reached low, between my arse cheeks and entered my creaming pussy from behind, fucking me slow and deep. Ohhhhhh yes, fuck me I thought, mmmmm it felt so good.
I felt the rubber of his mask between my thighs and his tongue lashing against my throbbing clit. I couldn't take it anymore. I pushed him back on the floor, scrambling to free his erect cock. The second I released it I sank down on him and began to ride him, hard, fast. Mmmmmmmm I was covered in latex, looking down on a rubber masked man and full of cock! I thought it couldn't get any better, but as I carried on fucking him, mindlessly, I felt his cock start to twitch and throb and I knew he was about to fill me with cum.
Just then he pushed the tip of two fingers against my arse, breaching the tight muscle 'Ahhhhhhh yes! Fuck yes! Fuck my pussy and my arse!!' I demanded and he did, harder and harder. 'I'm cumming' I screamed as my pussy clamped and gushed with my juices, all over his erupting cock. I felt him pumping his cum into me, sweat pouring from us both.
He couldn't believe how hard I'd fucked him. I told him how I'd always loved to fuck strangers, he wasn't the first and wouldn't be the last! He told me again how much he liked my outfit and went on his way!"