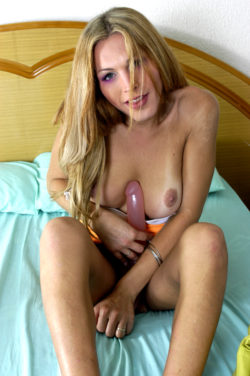 Name:  Adora
(unbelievable I know – I'm actually a chick with a dick!)
Age:  34
What is your confession?  I was out dancing with some friends at a club when I noticed a guy at the bar, watching me. Oh I knew I looked hot in my little black dress and stiletto heels. My hair was loose and my make-up and nails were pristine, I looked exactly how I felt, hot as fuck!
I knew he had no idea of the 'extra' delight I was packing between my toned, tanned thighs. He looked the naughty sort though…
I made my way to the ladies room, giving him a sexy little wink on my way past and putting an extra wiggle in my pert arse. Of course I knew he was going to follow, I mean who wouldn't?! A smoking hot blonde like me with 'fuck me' written all over my pretty, slutty face…
I stepped into cubicle and he was right behind me, frantically looking the stall door behind us. I stepped forward, pressing my firm, fleshy tits against his chest as I kissed him slow and deep. 'Oh fuck, you taste so good' he muttered, pulling my tits free of my dress and leaning down for a suck. Mmmmmm I could feel my cock stirring in my tight lace panties, pre cum seeping from the head…
I fumbled with his fly, desperate to feel how hard his was for me. Oh my he was solid and I knew the feeling. I got to my knees and lapped slowly at his cock. 'Oh God, Oh God' he murmured over and over again. 'You're going to fuck my mouth' I told him 'Mmmmmm you're going to fuck the pretty blonde's slutty little mouth you dirty, dirty boy….'
He fisted both hands in my hair as he rammed his full solid length straight into my throat! I lost my breath for only a second before I caught his rhythm.  His hard, fast, deep rhythm. I took his furious thrusting into my face, revelled in it. On my knees in a club toilet cubicle being treated like the filthy slut I am, mmmmmm it was perfection.
He suddenly pulled his cock free and yanked me to my feet. He spun me round, bending me forwards and yanking my dress up. 'Need to fuck you' he said, grabbing handfuls of my arse and fighting with my panties.
Oh fuck how I wanted that fat cock buried inside me! But I thought if I told him I was a chick with a dick it would all stop right then and there. I couldn't have that!
I bent over, pulling my panties to the side and discreetly spreading a nice amount of lube over my tight little hole, this wasn't my first time in club toilet! 'Mmmmmm yes baby' I encouraged as I felt the tip of his cock searching 'my arse, fuck my arse'
'Oh you filthy bitch!' he exclaimed just as he passed that first, tight, delicious ring of muscle. Ohhhhhh fuck how good it felt having him sink inside my arsehole…
In my pleasure I'd forgot to pay attention to his wandering hands, his arm wrapped around me as he began a slow steady pounding of my hole, his fingers searching…and finding… 'What the…?!' he froze at his first contact with my rock hard cock straining out of the waistband of my lace panties.
My arse clenched in my panic at being found out and he groaned. Oh yeah he liked that! I clenched again, tighter this time and fucked myself back on him. I felt the second he made the decision in his mind. His hands went firmly to my hips and mine went to my cock, pumping furiously as he punished my arsehole. Over and over he thrust, long, hard, deep, fast strokes. Fucking me ruthlessly!
I bit my lip to stop from screaming. He was going to cum, I could hear it his animalistic grunts, feel it in the throbbing and twitching inside my arse, his fingers clenched, his thighs locked and I pumped my wrist harder, I felt the first pulse of hot thick cum spurting deep in my arse as I felt my own spill onto my knuckles….mmmmmmmm fuck yes, that's what I'd needed a good hard arse fuck from a real man!
We righted ourselves quickly and went back out into the club without a word. Oh he might have felt a little weird about it then, but I know remembering the night he was tricked into fucking a dirty little chick with a dick is going to be getting him hard for years to come!
If you like the sound of hot slutty Adora, she's available for some kinky sex text right now via the UK's prime Shemale 100% discreet text service!