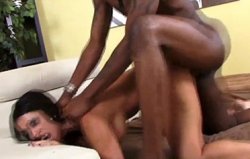 I had been staring at my new, sexy, black neighbour from an upstairs window as he did his daily workout in his back yard. I had been sneaking peeks at him every since he moved in three weeks before. He was very handsome and fit and even though I was married I couldn't help but fantasise about that big black cock that might be hiding under his shorts. While I was drifting deep into my fantasy, he looked up and waved at me.
I was startled and jumped back from the window. After a few minutes I peeked through the curtain again and there he was waving me over. I had just been caught spying and didn't want to go but thought it would be worse if I didn't. So, I went over and he invited me in for a glass of lemonade and I accepted his offer.
He was sweating a bit and I could smell his scent while standing next to him in his small kitchen. I felt like a school girl. My hand was trembling slightly as I drank the lemonade. And then he asked me if there was something else I wanted besides the drink. I wanted to say no. In my mind I was saying no but my head was nodding yes.
He had a sly smile on his face and asked me what it was I wanted but I couldn't make the words come out all though my pussy was screaming loudly. He grabbed his cock through his shorts and gave it a playful shake and asked me if that was want I wanted. My head was nodding up and down again even though I didn't want it to. He licked his lips and said that I was a married woman and it wouldn't be right for him to make advances toward me so I would have to come and get what I wanted and I did.
I pulled down his shorts and a beast of cock sprung out. I had never seen anything like it. It was the size and length of my forearm and all I wanted to do was take it in my mouth. When the smooth skin of his cock head slid across my tongue, I shuddered with a desire that I didn't even know existed and I wanted to give everything I had to that beautiful, big, black cock. I worked his massive cock with both my hands and mouth until he pulled me up from the floor, picked me up and carried me to the table.
He placed me on my back and spread my legs and I let out scream when his thick cock ripped through me. After a few strokes my pussy stretched to accommodate is enormous girth and the pain turned to the sweetest pleasure. When my pussy began to spray its warm juice I finally knew what ecstasy meant. I felt really guilty that first time but after my 20th ride on that big chocolate cock, I'm over the guilt.
Can't get enough of cheating housewives, text sex these home alone housewife whores!