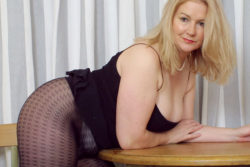 My hands slip under her top and she aids me in removing it so we are both bare chested and then we kiss, rubbing nipple to nipple in an erotic tangle of tongues.
I'm with my best friend Julie and the wine has gone to our heads, the more I drink the hotter she looks.
A clearing of a throat snaps us to attention as we turn and see our husbands standing in the doorway wide eyed. We rush to cover ourselves and I blush furiously.
'Don't stop.' Tailor says from across the room and I notice now that he and my husband are both sporting rock hard erections, clearly visibly through their drawstring pants.
I look to my husband, Jay, and he winks giving me the encouragement I need as I pull Julies mouth to meet mine once again. Out of the corner of my eye I see the men come and sit on the floor facing the sofa. I pull away from Julie as they pull their cocks out and begin to stroke themselves.
'Julie, lick my wife's pussy, she loves that.' Jay says whilst sliding his hand over his hard length.
I look to Julie to tell her she doesn't have to, but stop myself when I see the gleam in her eyes. She pulls my legs out from under me and slides my leggings down and off my legs. Pushing my legs up around her head, her mouth is on me before I can object- not that I would have wanted to. She licks and sucks like a pro as I moan and fondle with my own nipples.
'Oh fuck,' I hear Tailor say and look up to see him masturbating while watching us. 'Stick two fingers in her.' He says gruffly and Julie obliges, sliding in easily, aided by my saturated pussy.
'Oh god, I'm gonna cum!' I screech as she slides in and out vigorously whilst swirling my clit with her tongue. I explode around her and she eagerly licks me clean as I moan and wiggle.
Tailor groans along with me and I know he has shot his load too.
'Now her.' I hear Jay say and look up to see he's still hard and stroking himself slowly, delaying his pleasure.
I trade positions with Julie and place my mouth on her wet slit, teasing her gently with my tongue. I feel my hips being shifted and realise Jay is behind me. His throbbing tip probes my still gushing hole and he enters me slowly as I lick at Julie.I realise belatedly I'm having my first gangbang and I fucking love it!
He bucks into me wildly and I know he won't last long, but neither will I. The pleasure is intense and I double my efforts on Julie's clit wanting her to orgasm with us. I lift Julie's leg over my shoulder to make sure her husband can see the show and tongue her lavishly. She groans as I hum into her wet core and Jay swears above me before his semen shoots inside of me. Julie cums next, pushing herself into my face and I follow moaning into her. Jay pulls out and I clean Julie savouring her sweet taste.
Want to chat with me about my first gangbang? Call or Text ME here.