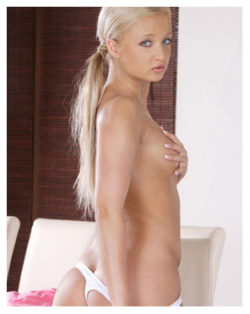 Hot teen model gets ruined in broad daylight…
I was on a shoot one time and the tog, that's what we call photographers in the trade, he said it was a bikini shoot, but they all say that and I always end up naked!
'Ok sexy' the tog said 'if you could just slip your bikini top off, turn around, palms against the tree and poke your arse out a little…'
I'd smiled to myself, yep, there it was!
We were in a very secluded area, on a quiet, warm day. I looked seductively into the camera, the tog eagerly snapping away with his camera as I slowly removed my top. I kept one arm over my tits, smirking as I did it, I knew what he wanted, but I loved to cock tease.
This was one of my first paid gigs. I usually model for other students, just as a favour and 9 times out of 10 the promise of a half decent fuck. This guy was no student though, he ran his own company. He'd spotted me out shopping one day, told me he was doing a bikini calendar and asked me if I'd like to be Miss March.
Of course I couldn't refuse. I'm a student for one and need the money! For two, I love the camera, love having sexy pictures taken of me and to be fair the camera loves me. I'm young, blonde, tanned, toned, sexy with pert little tits, what's not to love!?
'Beautiful' said the tog 'Mmmmmm yes, give me more'. I turned away from him, placed my palms on the thick trunk of the tree, freeing my tits. I bent a little at the waist, poking my arse out and looked back at the camera over my shoulder.
'So sexy' he murmured and I smiled at him. He was a good looking guy, much older than me, but very fuckable. I widened my stance, deliberately letting him see the outline of my plump pussy lips through the tight, skimpy bikini bottoms.
It wouldn't surprise me if he could see a wet patch, I was soaking. Photo shoots always made me so horny, which is probably why I end up fucking nearly all the photographers!
'Ok now I want to slip the bottoms down, just a touch' he said, again I smiled, oh he wanted this tight, young pussy for sure. I went to move my hand to do as he asked, but he said 'No no, keep your hands where they are, that's the perfect position, I'll do it'
He kept the camera in one hand, stood behind me, ran two fingers along the waistband of my bottoms and tugged them down, just a little. I couldn't help but reach up onto my toes and push my arse back into him.
As I pushed back and mmmmmmm I felt his hard cock pressing against my aching pussy. He moaned and said ' You're going the right way about getting fucked lassie'. I smiled, lifting my arse up and down, massaging his throbbing cock through his trousers.
He placed the camera carefully on the floor, returned to his position, only this time with his cock out. Mmmmmmm he teased my cunt through the thin, damp material with his fat, thick cock. I went to pull the bottoms to the side and yelped as he smacked my arse and said 'Keep your hands on the tree, don't move or I'll stop'
Mmmmmm his bossiness had my pussy creaming and throbbing. He teased me for what felt like forever! Using his cock and his fingers to trace every inch of my pussy. Finally he pulled the material to the side and ohhhhhhh I felt the hot, throbbing head of his cock.
As soon as I felt my lips beginning to part I lost all patience, thrusting backwards, taking his full, thick length all the way inside my tight, hot pussy.
Mmmmm then it seems he lost his patience. He started fucking me wildly against the tree, his grip firm on my hips as he pounded in and out of my pussy from behind.
My feet were being lifted off the floor with every thrust. Ohhhhhh ohhhhh fuck, I was being fucked that hard, I screamed out loud as I started to cum all over his cock,mmmmmmmm uncaring of who heard us, or saw us for that matter. Being fucked in public was just making me hotter.
He reached his hands up, squeezing my tits hard, fucking me deeply, my pussy squeezing him tightly. His cock twitched frantically as came deep inside my tight, young pussy. Mmmmm and I felt every hot squirt.
Afterwards, he told me to stay as I was. Palms against the tree, bikini bottoms pulled to the side, and cum leaking from my pussy. He took a few naughty pics that I'm pretty sure won't be going in the calendar!