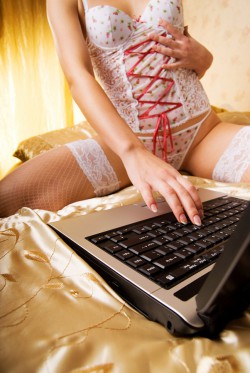 We're firmly in the 21st Century and mankind are in love with all the gizmos and gadgets that comes with it. From flicking your kettle on at the touch of an App to getting your rocks off at the click of a mouse. Cyber sex has become such a part of the norm for so many that I wanted to take a closer look at what makes it so enticing to the tech savvy masses.
Are the good old fashioned dating rituals dead and gone for good? Will the next generation be selecting their future life partners via webcam or is it purely scintillating entertainment? Can you actually fall in love via Arial font and pixels?
You only have to browse through Twitter to see that A LOT of girls are making a half decent living from cam fun. Horny guys in their thousands log on each day to the cam account of their favourite porn star, MILF, girl next door, BBW, FemDom…the list goes on and on and on.
There's no denying the appeal, I mean it's not often you'll go to the pub on your average Friday night pick up a world class sexy slut who's willing to fill herself with anal beads on the first night now is it?? You're getting direct communication with a woman from your hottest fantasies, every sense is firing…apart from touch, a fair sacrifice when you're getting so much else thrown into the bargain?
It's not just professional cammers that appeal, chat rooms and dating sites are inundated with horny men (and women) who love the illicit excitement of engaging in a torrid online affair. Hours of typing erotic words to each other, engaging each others minds and bodies with nothing more than stimulating text.
I've never been one to underestimate the power of words. A well timed, well written, filthy sentence can evoke more physical response from a partner than a quick grope. Finding someone online who shares the same wants as you, the same needs and has nothing but the desire to please you can be heady stuff.
F: I'd beg you to fill me
M: I'd want to cum so deep inside you. Pushing myself hard against you
F: Oh god, I want it so much
M: My balls pressed against you hard. Ready to erupt. I'd look right into your eyes…
F: Omg…please…don't stop, I'm going to cum
M: And we'd both know it. No words would be needed. I'd thrust once more and my cock would jerk violently. And I'd cum for you. In you. Fill you…
How blurred are the lines between reality and fantasy when it comes to cyber sex? For some it's difficult to see how tugging your todger in front of a computer screen can beat the real thing, the feel of a woman's warmth engulfing you… For others it is their reality, that woman on the screen is theirs, she's strumming herself and cumming with their name on her lips, all thanks to them.
With the leap in technology from our smart phones to google glass, I predict these personalised cyber sessions will only become more popular. And unlike pre recorded porn, live cam shows are extremely difficult to pirate, what does this mean for the adult industry? Are cam girls going to wank their way to the top and wipe out the tube sites on route?
Well not according to the stats (and yes, I know what they say about stats…). Although, according to Internet measuring company Alexa, some of the top cam sites (LiveJasmine) saw over 27million visitors last month alone, but this still isn't enough to knock good old fashioned porn scenes off the top spot.
Live Jasmin is ranked as the 176th most popular site in the US and 145th globally. Good old PornHub ranks 75th in the US and 72nd globally.
alexa.com
Having said that one of the ways PornHub makes it's money is by diverting visitors to cam rooms. So let's look at the cold hard cash shall we?
It's a global business and any time of the day or night you can find thousands of models online, You can log onto a site like CAM4 and you'll see 20,000 people 'watching' over 1,200 models online any day of the week. Or try FREEONESCAMS who have 1,228 pages of registered profiles which according to my calculations would make a massive 61,400 models of all persuasions offering live webcam sessions
And that's just a couple of sites, there are thousands…
http://t.co/NQAvD0rXvk I'm on cam right now but only til 1 am so get me while u can !! Xxx pic.twitter.com/rpkwKvYEiJ

— Faye Rampton (@faye_rampton) May 28, 2014
Douglas Richter, an executive-level consultant with LiveJasmin, estimates industry wide annual revenue from camming at more than $1 billion.
Live Jasmin's top performer earned $39,687 last month. Sticking at that rate could tally up earnings of just under half a million a year (thinking of giving up your day job yet?).
And who could forget BDSM model/Dominatrix, Maitresse Madlin, who auctioned off a one hour private webcam session for a whopping $42,000!
Look at it from your own point of view. Which would you prefer? A random shag from a half cut, semi naked girl at the club? Or hours, possibly days of hot cock/pussy teasing foreplay that leads to an intense explosive orgasm (or five)?!
Both have their appeal of course, but it's not hard to see why online fun has become so popular.
Are these guys spending their cash on digital fanny insane? Or does it make perfect sense? Can people be bothered with courting a woman any more? Is it time, money and effort that could be better spent on cam credits?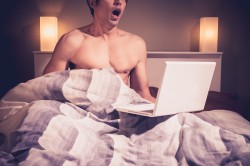 As always let me know what you think in the comments section below. Are you a cam girl who loves rocking the cocks of the nation? A loyal webcam customer who can't get off unless it's online? Or do you struggle to see why these guys and girls aren't getting some in the flesh?
Here's what the cam girls have to say:
'I think it (camming) appeals to a lot of people based on the level personal interaction, and of course always trying to obtain the unobtainable 😉

Model wise I like it because I'm an exhibitionist (I like people watching me, and making me feel sexy), schedule, convenience, no restriction on how long I can work (certainly a plus because I love what I do). You meet a variety of people and most importantly to me it allows me self fulfillment by giving others pleasure while also earning toward my future, earning my way to college debt free (hopefully).

Also a lot of the mainstream porn out there seems to be abusive towards the female models, and I find it better to have more one on one interactions with men who see me, because then you know I'm into it!

I'm doing things I'm certainly comfortable with, and nothing I'm not and you get to help a real live person out with their future, while enjoying some sexy personal interaction from real live girls who care about pleasing you and what you have to say! (if youre nice of course 😉 ).

I myself might dabble in some amateur porn soon coming up (just me and my webcam) as a fun side thing. And of course ill keep my followers posted on that 😉

Livejasmin is the most trafficked site I know of. And very classy as far as any other sites Ive seen. Which is where I cam.'
'I've always enjoyed camming, even from my swinging days. As much as I love making porn, camming puts me in much closer contact with the guys (an occasional girl) at the other end. I really feel like I've shared some very intimate and private sex with people from everywhere in the world because of the webcam. I almost have sexual 'relationships' with some of my more regular clients over the cam!

It's something I think I'd probably keep doing even if I ever decided to stop making movies. I know it's just a fantasy world, but it's a fun world with orgasms thrown in so what could be bad about that?!'