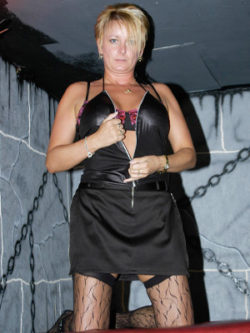 My latest sissy slave Nathan was making me a Pornstar cocktail in the kitchen when he made quite a mess. Obviously I wasn't going to clean it up, after all what are slaves for? So I stripped him down, spanking him if he disagreed, and dressed him up in the cutest maids outfit, frilly pink knickers, black skirt and white apron, he looked very cute!
Unfortunately Nathan decided to push my patience by refusing to wipe up the mess on his hands and knees, in his new feminine outfit. Shame, his arse looked pretty good in those panties.
I grab him by the hair at the nape of his neck and drag him to the spillage, showing I mean business.
'Lick it up!' I shout, shoving his face into the mess of alcohol and fruit juice. When he tries to lift his head my hand grabs his balls beneath the pink frills and give a good squeeze. He squeals and immediately starts lapping up the mess while I watch.
I'm very satisfied with the thorough job he has done, and once again my floor is sparkling so I decided to reward him. My hand slips inside his panties and he tries to wriggle away. But he doesn't get far as my finger penetrates his arse and he groans his cock twitching. He likes to pretend he doesn't like it, but I know different as I push in another and use my other hand to fondle his ball sack. I pump and squeeze until he's spraying semen into the front of the knickers and it's dripping onto the floor.
Of course, now he has to clean up all over again, using his tongue once again.
Want to hear more of my sissy training stories? Or are you a wimp who needs some training yourself? Give me a call. Mistress Blair is waiting and I don't like to wait long.