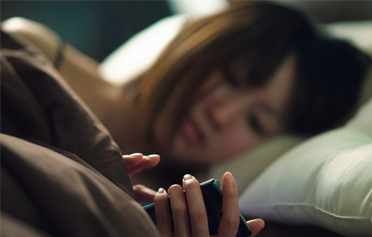 I met him in a cafe that I go to almost every day. We bumped into each other as I was leaving one day. He complimented my shoes. I smiled and we struck up a conversation. We exchanged numbers. He was so handsome with his tailored suit and deep grey eyes. My whole body felt electrified. I wanted him bad.
A month went by and I didn't hear from him. Then one night I got a text from him that said, 'touch it'. I wanted to tell him that he couldn't just pop up after a month, not even bother saying hello and make a demand like that. But I didn't. I just felt this deep urge to obey him and I did.
And that's how it started. He would send me text messages telling me to do different things. Sometimes he would tell me to finger myself until I came. Sometimes he would tell me to walk up to the first person I saw on the street and tell them that I am a whore. And I always obeyed.
Once he told me to wear a skirt with no knickers. After a few months of text messages but not seeing each other, he showed up outside of the cafe. He pulled me around the building, behind some bins and slid a finger between my legs. I was wet instantly. I thrust my pussy at him, desperate to feel his fingers deep inside me but he pulled his hand away and told me that he was only checking to see if I was being a good girl. And then he left me there, wanting him.
We never talk. He only sends his demands. Sometimes he texts me twenty times a day. Sometimes he won't text me for days. I never know when I'm going to hear from him. It didn't take long for me to realise that he completely owns me. I am always waiting to get a message, anxious for his attention. Every time I get a text message my pussy jumps like a trained dog and I'm always heartbroken when it isn't him.
Yesterday, I got a message that said to go to a nearby park wearing a short skirt with no knickers,and wait on the little bridge that overlooks a small pond. I wasn't waiting long when he slid up behind me and said 'you've been a really good girl, I think you deserve a present'. He unzipped his trousers. I looked around nervously. I heard him say, 'Yes, I am going to fuck you right here', like he could read my mind and then he pushed his thick cock into me with one long stroke. He felt so good. I thanked him for every thrust he gave me until I came. He shot his load in me while my pussy was still quivering, zipped his pants up and left me, dripping and shaking, without another word. And now I wait for the next text.
Love sexting? Love domination? Sex text with wild fetish sluts who are as kinky as they cum! DomPhoneSex!