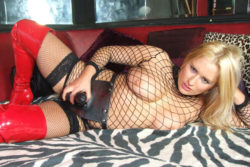 I bring the flogger down on his arse with a solid thwack! He does his best not to make a sound but the rosy cheeks and solid erection tell me all I need. Thwack!
I knew as soon as I laid eyes on the inadequate room service waiter, that he would make the perfect little sub. The way he had tripped over his own feet, blushing at my lacy gown. All whilst trying to place my meal down with shaking hands, got me hot and bothered and wanting to give him a little training.
My flogger comes down one last time and a low moan escapes his lips. I yearn to release his wrists from my leather cuffs and ride him hard until he fills my tight pussy with cum, but I'm good at being patient and know I can have my fun in the meantime.
I make him flip over on the bed. My underwear gets moved to the side as I sit myself on his face and demand he licks my pussy. He surprises me as he's damn good with his tongue, rubbing and nibbling my clit until I can take know more.
Sliding back down his body, biting his nipples hard on the way down, his cock twitches beneath me and I impale myself down his hard length. He tries to take control so I twist his nipple again and he stills beneath me. I'm in control bitch.
I fuck him hard and fast bringing him to the brink of exploding then stilling, frustrating him to no end. I'm just about to do it again but as I'm going to stop he lifts up. He takes my nipple into his mouth sucking hard. I climax hard and he moans as he empties his load inside of me.
He broke my rules taking control but I'm going to have fun disciplining the naughty boy.
Want to hear more or need some training yourself? Call me here. I also like to reward good boys with dirty pictures.