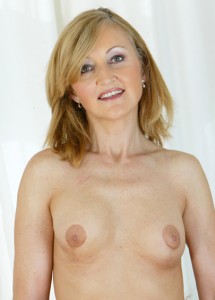 Name: Lou-Lou
Age 55
Location:  Your deepest, darkest fantasies
What is your Confession?  I'm a sinful swinging housewife!  It's sexy, it's naughty and I love it!!
How long have you been Swinging and how did you start off?  Well, I've been married for most of my adult life and we started Swinging before our engagement party, so quite a while!
Was it your or your husband's idea?  Haha!  It was very much a mutual decision.  We've always been a very open, sexually adventurous couple and it's something we'd discussed intimately  (in great detail) quite often.
Are you open with friends/family about your Swinging ways?  What is the most common reaction?  Hmmmm well we've never hidden the fact that we have an open relationship and the majority of our friends are also Swingers.  We don't rub it in people's faces, but neither are we ashamed of it.  I'd say people who don't know us and learn about our lifestyle usually aren't too surprised, we're pretty outrageous and don't often hold back.  I like to think that people who turn their noses up at it are insanely jealous of all the fit young men with bucket loads of stamina I'm getting!
Would you recommend the Swinging lifestyle?  Any tips for people who may be interested in getting involved?  Oh most definitely!  You haven't lived until you've at least tried it in my opinion.  It's so liberating! Not to mention, hot…sexy…and satisfying on a whole new level.  As for getting started, my husband and I started with a few discreet, private parties then we decided to branch out a little further.  We joined specialised websites, visited various sex clubs (still do) and local events.  There's always something going on all over the UK, the internet is your friend!
So far, what has been your favourite Swinging experience?   Oh wow, there have been so many!! Off the top of my head I would say…either my 50th birthday when my husband gifted me with THREE hot, horny young men (and one girl…) or…the night we introduced our new neighbours to the Swinging scene.  That was a very intense night, we still get invited round to visit now and again of course.  You can hear more about my sinful, sexy, swinging stories here http://www.50plusphonesex.co.uk/mature-adult-chat-lou/
FANNY'S VERDICT:  That is one hot mamma! As my Fanny followers will know, I'm a big fan of the Swinging scene, share and share alike that's my motto!  There's plenty enough to go around and I'm definitely one of those people who likes to taste a little of everything on the menu 😉 x