Name:  Chelsea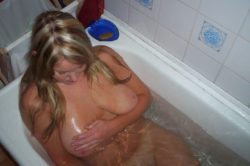 Age: 20
What is your confession?  I'd been out clubbing with my best friend and her boyfriend. We'd had way too much to drink and when we got back to their flat, we both grinded on her boyfriend and started kissing for his enjoyment. It had been a long night and I was covered in sweat so I decided to take a bath at their place, but I was so plastered I got into the bathtub still wearing my clothes! The cold room mixed with the warm water made my nipples hard and I started pinching them, sending shivers down my body. Oooohhhh I was feeling ssssoooo horny!
I was getting sssoooo fucking hot. I closed my eyes and imagined a BIG cock entering my wet pussy and my hands found their way to my wet hole. MMMMmmm, it felt so good rubbing my pussy. With my other hand, I lifted my white T-shirt until my entire body was exposed.
Aaahhhhh, MMMMMMM- my pussy ached and I began rubbing my clit harder and faster, letting the sensations build inside me. Ooooohhhh I could feel the orgasm growing. My hands worked my clit until I came hard in the tub. Mmmmhhh, aaaaahhhh, my body shivered from the sensations and I bit my lip in ecstasy. I looked over at the door to the bathroom and saw it was a little ajar. My best friends boyfriend was peering in stroking his hard cock as he watched me play with myself. Having an audience just made my pussy even wetter, and I decided to give him a nice little show.
I stood up in the bathroom and bent over. My soap covered arse was pointed right at the door and I began playing with my arsehole. I let my fingers slide inside and my puckered hole gripped my finger as I inserted it deeper. I turned around and face the door squeezing my tits for him. He knew this show was for him and let the door swing open. I straddled the bathtub and rubbed my clit as I watched him slowly stroke big 9-inch cock. Oooohhh boy, this was HOT!
Without a word he walked in and grabbed my hair, pulling me towards his cock until my mouth swallowed it whole. Mmmmhhh his dick tasted ssssooo good as I devoured it hungrily. I played with my pussy as I sucked his cock, letting my tongue caress the tip until I could taste the first drops of precum. 'Hhhmmm yeah, mmmhhh I want you so bad…' he said.
He turned me around and pressed his huge dick against my tight arsehole. The pain of insertion made me wince but that just turned him on more. Soon, his entire cock was balls deep in my arse and he began pounding me HARDER and HARDER. 'oh yeah, mmmhhh, oh yeah you fucking animal' I screamed as I fingered my pussy while he fucked me hard, oh sssooo hard, hhhhmmm – it wasn't long before my orgasm rushed through my body – a long and hot overwhelming orgasm, hhhmmm, ooooohhh. I could tell he was getting close….
He turned me around again until my face once again faced his hard cock. He had gripped it hard and pointed it towards my large breasts. His cum exploded on my tits, covering them. I sucked the last drips from his cock and that's when we noticed my best friend standing in the doorway with a big smile on her face.
If you liked Chelsea's confession you can listen to her LIVE or hear other hardcore sex confessions like hers at www.sexsinners.co.uk