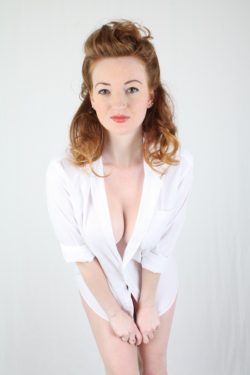 Fetish Model, Adult Actress and delicious NATURAL redhead, when Zara Du Rose isn't making your pulses race with her collection of latex outfits she can be found starring as one of the new lead Iconic Starlets. I caught up with her recently to get to know the delightful, self-proclaimed bi-sexual pervert a little better:
If you were the opposite sex for one day, what would you look like and what would you do?
I'd be tall dark and handsome and I'd go and try and pull lots of girls!
Do you have a secret talent and what is it?
I can actually tie a cherry stalk into a knot with my tongue.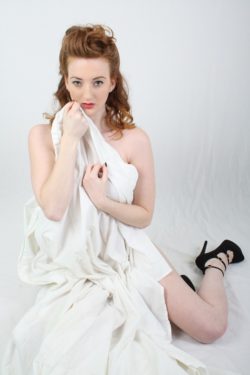 What is one unique thing that you're afraid of?
It's not very unique, but I don't like clowns very much.
What's your current desktop picture?
Latex clad ladies!
You've been in the adult industry a while now, what do you like most about your job?
I like meeting new people, I love how every day is different and I like being able to have sex and get paid for it.
And who introduced you to it?
My husband and I decided to do it together and we just went for it.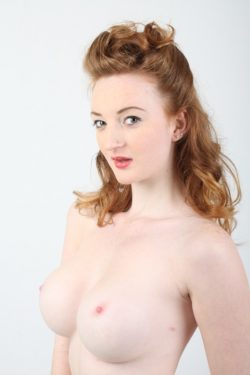 Where's the most interesting place you've ever had an orgasm?
Hmmmm probably in the back of a taxi.
Do you remember your first ever orgasm? Were you with a girlfriend, a boyfriend or on your own?
I do actually, I was quite young, probably too young! And I was on my own haha.
Would you say you were a natural exhibitionist?
Possibly yes, I like to show things off and I feel good about my body yeah.
Does it turn you on to know you're getting a guy hard?
It does, it lets me know I'm doing something right.
You accidentally eat some radioactive vegetables and they endow you with the superpower of your choice! What do you want to be able to do?
I'd be invisible so I could get up to all sorts.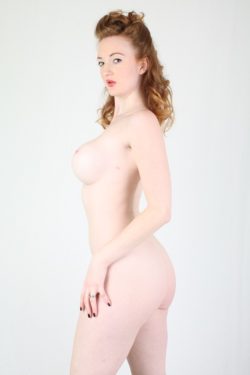 On scale from 1-5, how afraid of dark are you?
Hmmmm probably about a 3, average.
What would you say is your best attribute?
My hair colour, I'm a natural redhead.
When I looked at myself in the mirror this morning I thought…
Wow I look tired, I could go back to bed.
What does the last text message on your phone say?
It was from my husband and it says 'Do you fancy an Indian tonight? I'm looking forward to the evening with you'.
If you had to choose between a million £/$ and being able to fly which would you choose?
I'd be greedy and go for the money so I could buy lots of latex!
Have you ever had an imaginary friend?
When I was school I did, I can't remember exactly, I just remember being a bit weird.
What's the furthest place you've ever visited?
I've been all over the place. I've been to Russia, I did a tour there. Canada, the States and most of Europe.
Is there someone you'd really just like to punch in the face?
Probably a celebrity, someone like Paris Hilton, she gets on my nerves.
Likewise, is there someone you'd really just like to cuddle?
Brian Blessed, he's really funny.
See more of Zara by following her on Twitter, @ZaraDuRose and by checking out her Iconic Starlets Profile.