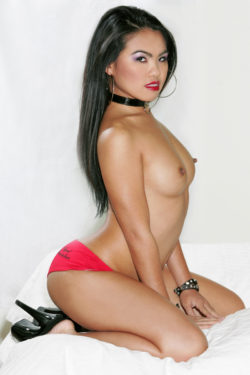 Cindy Starfall was raised in a strict Vietnamese household that didn't allow her to express herself sexually.  A year ago, the Asian sensation decided to make a career out of her sexual liberation by joining the adult industry. Cindy is a regular at upscale swinger events and parties and loves celebrating her sexuality with fun, open-minded couples. Since her debut the gorgeous exotic star has worked with XXX production companies such as Hustler, Wicked, Penthouse, Evil Angel, Digital Playground, Adam & Eve and many more. The breakout actress also stars in her first mainstream role in Saving Humanity, an R-rated sci-fi flick scheduled for a September release. Cindy has already launched an online store where fans can buy DVDs, request autographed pictures and other Cindy Starfall memorabilia directly from the star. Though the petite starlet has only been performing in the adult industry for a year, her work is already being celebrated with a Best New Starlet nomination for the 2014 AVN Awards. Cindy is also nominated for Best Scene in a Non-Feature Release in the 2014 XBiz Awards!
If you were the opposite sex for one day, what would you look like and what would you do?
A big , long penis and stick it in any hole that comes my way that day
What is one unique thing that you're afraid of?
Not seeing my feet under water, the feeling of my feet not feeling the sand freaks me out. Hence, I never learned how to swim. Now hiring for a lifeguard position!
You accidentally eat some radioactive vegetables and they endow you with the superpower
 of your choice! What do you want to be able to do?
A hypnotize power! I want to hypnotize everyone to pleasure me the way I want.
When I looked into the mirror this morning I thought…
Who's gonna be my victim of the day…
The last furry thing I touched was….
Bambam, my kitty. He sleeps with me every night and he loves watching me shower. Pervert cat! Just like his owner!
Who is the person you trust most?
I trust myself the most because I don't want to rely on people when I know I can get things done my way.
You just got a free plane ticket to anywhere. You have to depart right now.
Where are you gonna go?
Italy, I'm coming ! Italian men drive me crazy in a good way and I'd want to conquer Italy with my Asian pussy.
My favourite position is…
Doggy style in front of a mirror.  Watching the guy pulling my hair while grabbing my ass toward him as he thrusts deep inside me.  I feel like a dirty sex slave in that position.
Are you a thinker or a doer?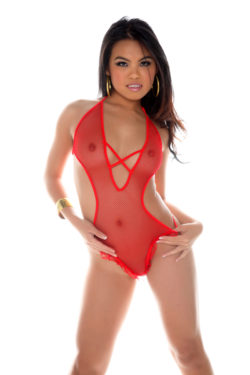 Both! I think first before doing because everything has its consequences.
Are you a leader or a follower?
I'm definitely a leader.  I can be an alpha outside of bed but give in as a submissive girl in bed.
My favourite stress relief is…
Sex and shopping.  They always take me into the fantasy world and help me forget about everything.
My celeb crush is definitely…
George Clooney. I love older man who looks well in tailored suit.
You can vote for Cindy Starfall as AVN's Best New Starlet 2014 by clicking here!