Chessie at Home…
Do you have a pet? If you do, what is it? Got a picture? If you don't, what would you have if you could?
I sure do… shes a real cutie. However, I'm still housetraining the little cowbag. I've used more Plenty kitchen towels than Gordon Ramsey's used the F word. My neighbours are always asking me the same question, have you got plenty wet?
Do you ever forget to put your knickers on when you go out?
I never forget whether I've got my knickers on or not. Coming from a naturist family, wearing underwear in public is something I will only do when I meet the queen, be rude not to!
What's the perfect Sunday morning for you?
Getting jumped on first thing in the morning by either a hot chick, a hot guy, or both! I love being the meat in the sandwich hahaha!
Is there anything legal that you wouldn't do?
Can't say scat floats my boat, however, just about anything else gets me moist. Including balloons 😉
Are you superstitious? Ever been to a psychic? Do you believe in magic?
Yes, I've had my tarot cards read once. It said i was going to meet a snake of a woman… I did meet this really hot busty blonde, looked a bit like me funnily enough and she turned out to be a complete numpty. Just shows you, big boobs and a cute butt don't mean a nice person. Other than that, I'm not superstitious, I always walk under ladders, and am never not partial of walking on a crack… pavements that is.
Have you ever had any embarrassing moments when people have recognised who you are?
I was out with my family having a sunday dinner, and 3 girls opposite our table had been staring at me for at least a couple of hours. I decided I needed to go pee, and in barged one of the girls from the table. She proceeded to tell me that they had all seen me on tv and all found me a real turn on. They had all betted the girl that she wouldn't come in and tell me that, and ask me for a kiss. All she needed wa proof on her phone of me kissing her. I said, why stop there, why don't we have some real fun as she was real cute. For the next 15 mins I fucked her brains senseless. We left her phone recording us. My family said where have you been, and I said "Oh, just putting some lippy on, a girl has to look her best you know" hahaha.
If people haven't seen you in a movie yet can you suggest your favourite or just one you think they would enjoy?
I would suggest you check out my latest video on Killergram: A Blonde College Babe. Getting properly shafted by the excellent Marc Rose.
Do you have a bear or a favourite inanimate object that you take to bed with you? Describe?
I don't have a cuddly toy, who needs a stuffed animal when you've got the cutest little pug in the world called Jonesy!
If you could give an award what would it be for and who would you give it to?
Jasmine James for being the biggest slut hobag this side of texas 😉
What's been the highlight of your career so far?
I would say although I've literally just started in this amazing industry, being nominated for ukap has been the most fantastic thing so far.
What's the one thing you're guaranteed to order from the menu?
Alcohol, and onion rings and… alcohol.
Where can people find you at your filthiest?
Well, it has to be at one of the best channels on the internet… Sexstationtv.com. I get to work with the hottest chicks, and I get paid for it, woohoo!
Chessie in Bed…
What do you like more, giving or receiving oral sex?
I love giving oral sex. I've got a big mouth so it really comes in handy when you've got a big cock that needs special attention. Saying that, its not too big to get up close and personal with a really cute fanny yum yum.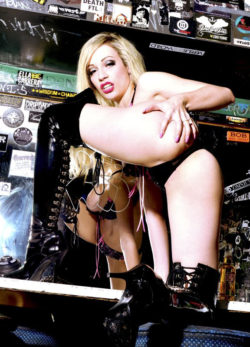 Do you masturbate? When? Where? How often?
Do I masturbate, hell yeah! I've had to buy myself another magic wand. Its got so bad, that I've got into the habit of going to Waitrose with my vibrating loveballs. I just can't get enough. Whenever I leave the store, I'm always setting off the alarm, I'm sure the security guard thinks I'm doing it on purpose.
Some women enjoy foreplay more than sex, do you enjoy foreplay?
To be honest, I love em exactly the same. Sex without foreplay is like strawberries without cream, or foreplay without sex like Jeremy without Kyle, They all have to cum together.
What gets you wet?
The shower, or a good hot bath…..or filthy lezbo porn or well hung stud porn while using 1 of my favourite toys..that reminds me I need some new rechargeable batteries.
What's the most guys you've ever been fucked by in one session? Was it on film or just for fun?
I had 3 guys at the same time a couple of weeks back. It was a modeling shoot for a fitness magazine. They all knew each other and propositioned me, after seeing all these hot guys all day, I was definitely not going to say no. We went back to the photo studio later that night and they all fucked me till the early morning…wow, I felt like Woody the Cowboy from Toy Story, still walking funny now ha.
Who gave you the best sex you ever had?
Jasmine James, the strap-on queen! I dont do anal, but boy she caught me short that night.
Who gave you your first orgasm? Was it with yourself, girlfriend, boyfriend?
My first orgasm was actually by accident by myself. My mum had just brought a new washing machine. 1 day I was reaching for my PE kit on the shelf above, and while sitting on top I found the motions of the washer start to vibrate through my fanny in a way I'd never felt before. The hot metal against my intimate part was like nothing I'd ever known, I was still a virgin and didn't know what to feel, except a sudden rush of wetness and sigh of huge relief, this was something I would never forget.
What is your favourite sex toy?
It has to be my G spot toy. Its pink, thin with a bend on it with ball type shape at the end..nothing gets me off like that except a big strap-on that gets used on me, but thats another story…
Does size matter?
No, definitely not, but big or small a dick has to be used correctly and in professional hands.
Chessie in Fantasy Land…
Combine 3 people to make your perfect man.
George Clooney, Sean Connery and Hugh Hefner.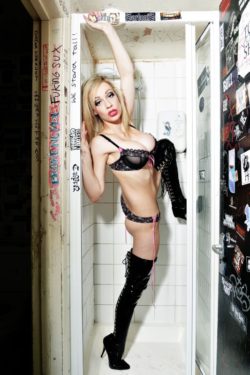 Sex or shopping? Which would you choose? Half an hour of sex with Johnny Depp or half an hour of shopping with Roman Abramovitch's credit card?
Haha, has to be Roman Abramovitch's credit card. What girl doesn't like shopping, and an unlimited credit limit really gets my juices flowing.
Do you have any unfulfilled sexual fantasies?
Yeah loads, foursomes, bukkaki, lots of chains and ball gags, asian girls. I'm a spunk cum lover so anything that involves that works for me.
You got a bit wrecked last night and can't quite remember what happened, who would you rather find in bed next to you when you wake up? Wayne Rooney or Shrek?
Oh thats not fair. Well Rooneys got great ball control, but shrek can scare the shit out of me in bed I'm sure…. can i have both and let you know in the morning?
What do you find more attractive in a man? Money or Power (presume both have a big cock)?
Not money, thats nice but not everything. Power is sexy but that can be a turn off sometimes, I've met a few high end celebs with power and money and I always call the shots. I would say money earned from hard work is more attractive than power, unless hes superman.
Would you like to direct a porn movie? Tell us the plot.
OH YES. Girl inherits 10 Billion pounds and wants to find Mr or MRS right. She creates an audition like the xfactor, trialing all sorts until she finds..the 1.
Do you have a favourite football team? Which players balls would you most like to find in the back of your net?
MAN UTD. Hes gone now, but has to be Mr Beckham.
Do you squirt?
Not at the minute, but I'm really am trying. My good friend Kimmy Cumlots is teaching me.
What's a better 3sum for you? You and two guys or you with one guy and one girl?
Definitely 2 guys…
What's the strangest thing you ever been asked to do on camera?
I got asked to pee over 4 girls holding champagne glasses under their chins so anything they couldn't swallow they could drink after. I really loved it, thats what got me into water sports ha
Spit or swallow?
OMG, definitely SWALLOW YUM YUM!