Bambi at Home..
Do you have a pet? If you do, what is it? Got a picture? If you don't, what would you have if you could?
I have the cutest siamese cats ever!!! but lila is my fave…she's called lila as she is a lilac point with big blue eyes shes sooooo crazy just like me and she does the most craziest things, I put lipstick on her, blusher, draw eyebrows…everything I could giggle at her all day.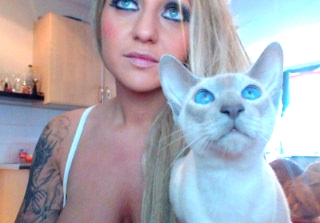 Do you ever forget to put your knickers on when you go out?
I'm know for never ever wearing knickers. in fact I don't really own that many apart from the ones I wear on set that match the outfit
"…I actually had to put a funnel in my cumsluts ass at a gangbang party and hold it while guys spunked in it and it ran deep into her hole…."

What's the perfect Sunday morning for you?
I love to relax and spend time with family on a sunday..it's kind of my normal day..if there's ever such a thing although you can't ever start a day of without good sex.
Are you superstitious? Ever been to a psychic? Do you believe in magic?
I'm not superstitious but I do believe in many things and I believe everything happens for a reason may it be good or bad I'v seen many things in many places and met lots of different people who practice lots of things…there's more to this life than just the material physical self
If i told you, you wouldn't sleep at night 😉
Have you ever had any embarrassing moments when people have recognised who you are?
I'm not phased by things I am who I am and I do what I do!! I'm more embarrassed for the people who recognise me and don't know where to put the face, or there hardon You can always guarantee I'll get a txt later saying omg I saw you today in such n such a place…I'm like "yeah cool" I am a person lol.
If people haven't seen you in a movie yet can you suggest your favourite or just one you think they would enjoy?
I love all the work that I've ever done so I'm lucky as I love my job…I always give it my all and I'd like to think that comes across in all my work whether it be in live shows or studio work
Do you have a bear or a favourite inanimate object that you take to bed with you? Describe?
Ah i do, his name is fracture and he's 22 years old, he's a monkey that i got when i was in hospital as a child from a fractured ankle he always went everywhere with me, he's old and full of holes but he's still cute.
If you could give an award what would it be for and who would you give it to?
I'd give it to everyone who ever had to deal with a drama queen of a pornstar…god there hard work!! get fucked, enjoy it… don't complain, just get gagged with that cock… take it like a soldier, it's not about you, it's about the fans watching it get spunked on, clean up, and fuckoff home….SIMPLE
What's been the highlight of your career so far?
It would have to be getting recognition, this is more rewarding than anything, fans are what matter most and it shows your doing something right
i aim to please 😉 so especially being nominated for an award is amazing and i'm so thankful to everyone who watches me
What's the one thing you're guaranteed to order from the menu?
A dessert, you can never finish off without something sweet in your mouth…or in most porn girls situations something salty lol
Where can people find you at your filthiest?
I'm a genuine filthy person off set as well as on, i have the horniest of people round me all the time and we do the craziest things in the craziest places
it's what makes me feel alive!!
Bambi in Bed…
What do you like more, giving or receiving oral sex?
I love both but 69 don't work for me because as I'm trying to concentrate on giving him good head, I lose concentration on what he's doing to me lol…."multitasking ain't my strongest point lol"
Do you masturbate? When? Where? How often?
I love to masterburate for guys to watch it really turns me on but as for when I'm alone
probably twice a week but I'm always touching myself and I like to tease a guy…as I don't wear knickers I'll do the randomest things in public and it's like…here taste my fingers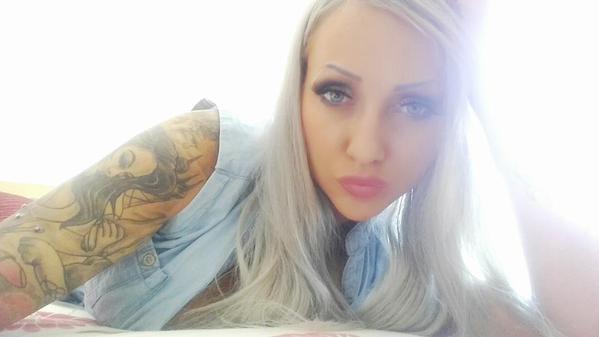 Some women enjoy foreplay more than sex, do you enjoy foreplay?
I do enjoy foreplay but for me its just a tease… I like to cum at least 3 times during a sex session…
I love deep hard slow penetration, but don't get me wrong I could have my pussy eaten (the right way) for hours
What gets you wet?
Kissing its got to be kissing every time, like the kind where your mouths become one
What's the most guys you've ever been fucked by in one session? Was it on film or just for fun?
now that would be telling 😉 lol…..join my next gangbang AND FIND OUT !!
Who gave you the best sex you ever had?
well I get off on the thought of being attached to a person thats what really does it for me,
you can fuck just anyone but to share a real intimate encounter I think you need to be attached emotionally in some way so the whole body feels something rather than just the pussy 😉
Who gave you your first orgasm? Was it with yourself, girlfriend, boyfriend?
OMG of course myself…I wasn't a whore at 13 lol
What is your favourite sex toy?
I have to climax when using toys through clitoral stimulation as you can beat a good natural cock, I like the bullets that are really strong god they make me cum so quick.
Does size matter?
Of course it does to a certain extent but huge Isn't necessarily better as it can be bigger than past the point of pleasure and believe me I know …anal with mr Kai Tailor…god i was sweating with uncomfortableness
Bambi in Fantasy Land…
Combine 3 people to make your perfect man.
Gerard Butler's face….with Dennis Wolf's body and Lil Wayne's voice………..WOW I'M ACTUALLY WET NOW
Sex or shopping? Which would you choose? Half an hour of sex with Johnny Depp or half an hour of shopping with Roman Abramovich's credit card?
Well probably the credit card as I'm not too into johnny depp so I'd use the card to pay for a nice session in bed with a better guy lol
Do you have any unfulfilled sexual fantasies?
I actually don't I've been there and done it all…I've been a swinger for many years before entering the world of porn so I assure you I've had the opportunity to do everything…I'm a filthy bitch.
You got a bit wrecked last night and can't quite remember what happened, who would you rather find in bed next to you when you wake up? Wayne Rooney or Shrek?
Well that would have to be Shrek as I know he's only ever been with fictional characters so he won't have passed me any unwanted clinic trips, unlike wayne rooney and AHEM!! "cough cough" we wont go there when it comes to saying where's he's shot his balls in the past.
What do you find more attractive in a man? Money or Power (presume both have a big cock)?
It's got to be power, I support myself and like to think I'd never need to rely on anyone for cash as that leads to trouble. I'm a very dominant person so only power would keep me interested in a guy. I LIKE A CHALLENGE 😉
Would you like to direct a porn movie? Tell us the plot.
I direct stuff all the time as I shoot a lot of stuff for my own website, I love being a director actually in the movies too…done a few of my own series where I'm the interviewer and make people fuck while I watch.
I also direct a lot of my own party's and theres nothing better than telling a room full of naked guys what to do to my sluts ( just picture 15 naked cocked guys frightened to death by the thought of what i'll make them do next ) "viagras anyone?" 😉
Do you squirt?
I have actually only ever done it once in my life and believe it or not I laughed as I thought I'd pissed the bed
What's a better 3sum for you? You and two guys or you with one guy and one girl?
Both as I love love love bi sexual 3sums wether it be with 2 guys or 2 girls, I love to domme so it works good both ways
What's the strangest thing you ever been asked to do on camera?
LMAO I actually had to put a funnel in my cumsluts ass at a gangbang party and hold it while guys spunked in it and it ran deep into her hole….
this was soooooooo crazy but awesome….i'll attach a pic 😉
Spit or swallow?
Hmmmmm swallowing is such a waste I'd rather have it run out of my mouth and totally cover my face and wipe it all over me with my hands…cum shots are the best!!!!
See more of Bambi Black by following her on Twitter or check out her site www.bambiblacks.com