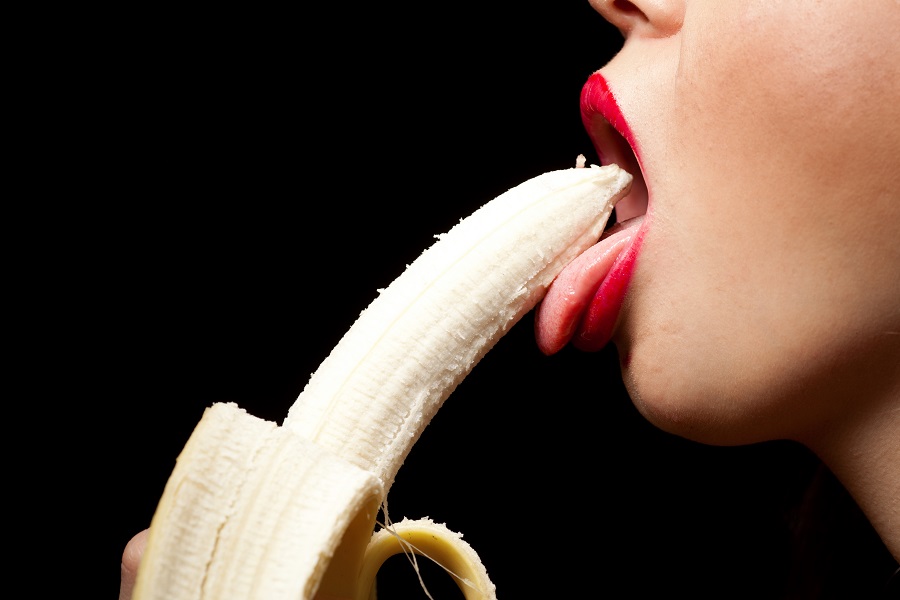 Oh, men and their love of blow jobs. Of all sexual activities, having their cock sucked seems to be right up there with their favourites. I'd say at least 90% of guys can agree that they adore having their dick sucked. And to be honest, I don't blame them, if I had a penis I'd most definitely want it in someone's mouth all the time too.
Although most men absolutely love getting a blowie, the sad fact of the matter is a lot of women dislike giving them, or at least suffer a little 'performance anxiety'. While this site is predominantly aimed towards men, I'm hoping to share a few nuggets of wisdom that you guys can either agree/disagree with and possibly even share with your lady friends.
Sex is supposed to be fun! If you want your partner to not just suck your cock, but to love doing it too, take a look at these tips for giving a mind blowing blow job. It's not just a part of your slap and tickle routine, it's an art form…
Foreplay
First things first you need to get your oral target it the mood for some sexy time. Go for the sexy lingerie. Maybe some lace. Maybe a push up. Maybe a garter. Smell amazing, do your hair, do your nails, if you FEEL like a sex Goddess, you're much more likely to act like one. Combine the sexy look with passionate kissing, massage him through his pants/boxers, plenty of (genuine) moaning and that "I can't wait to taste you look" in your eyes = instant hard on. Making him anticipate your mouth on him is hot, but making him wait too long can potentially undo some of your hard work. It's all about finding the middle ground.
Position/Location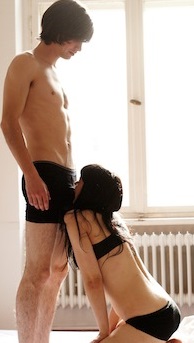 Just like, some positions are just better for a blowjob than others. Most of us are used to "the guy lies on his back while you go down on him" position but you can make things more interesting. How about letting the guy stand while you go down on your knees. That position will give him better control and let him see you better which automatically makes it more pleasurable, men are very visual creatures and seeing a mouth working their cock is VERY visual. Just make sure you have a pillow or carpet under your knees so you don't hurt yourself. And then there's always that good old classic, 69! Also sticking only to the bedroom can get monotonous. Be adventurous and give it to him when and where he least expects it, kitchen, bathroom..mix it up a bit. Don't be afraid to experiment and have fun with it.
Use Your Hands
A blowjob doesn't mean just using your mouth. Women are all about multitasking, right? Alternate between stroking his shaft and massaging his balls. Remember to increase the tempo as the blowjob progresses. And use the right amount of pressure, read his body language will let you know what he likes if not he himself. There are so many more things you can do to make the blowjob so much more enjoyable for your man, like breathing, licking, talking dirty etc. It's all about getting in the right zone, feeling comfortable and letting loose.
Magic Tongue
Your tongue is a weapon of mass destruction. Remember that always! And especially during a blowjob. Use it on the head (guaranteed to drive him crazy!). Run it along the length of his manhood and yes, his balls as well. Remember the wetter his shaft, the easier the blowjob for you and the better for him! Don't be afraid to get messy, noisy and a little bit nasty 😉
Anatomy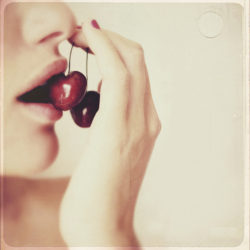 Know your prey, understanding the penis will help you please it better. So remember, the head of the cock i.e. the top of it is the most sensitive part. Don't use your teeth on this part ever… not unless ya know, he's specifically stated he's into that sort of thing. His shaft is what will help you control your moves so have a firm grip over it and keep it wet at all times. And of course there are his balls. Remember they are VERY sensitive. Treat them accordingly. Use a combination of your fingers, tongue and mouth on all these parts to drive him crazy!
Deepthroat
Ahhhh a personal favourite. Agreed it's hard to do, especially if the guy in question is well endowed, but it's more often than not what turns the man on the most in a blowjob. He wants to thrust back into your throat, it's the hottest, wettest, tightest part of your mouth. So even if you think you can't do it, give it a shot. The easiest way to deep-throat is to be on your knees. Feel free to give him a friendly warning not to force his dick into your mouth if that's not what you're into, because it'll make you gag and fight for air.
The key is to relax your throat. Adjust your neck slightly upward, wet his shaft and gradually slide it in. Use your hand for better control. Put your tongue out as much as you can so that you will have more space. Hold it in as long as you can and when you feel like you're about to gag, slowly bring it out. For added kicks, look into his eyes while doing this. And most importantly, practice practice practice!
To Spit or Swallow?
I know a lot of you are uncomfortable with the idea of swallowing his cum and that's perfectly fine. Yes a lot of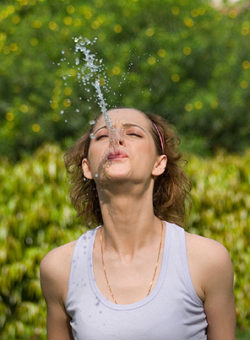 guys do prefer it, It makes them feel more dominant, connected and satisfied. And really, it's not that bad, but if you absolutely can't fathom the idea of swallowing, then don't stress it, do the next best thing. Allow him to cum anywhere on your body or better still your face. He wants you to enjoy him, don't do anything that will make you pull an 'ewwww' face, because he'll sense it.
Bonus Tips
Watch his reactions. Read his body language. A man will very rarely fake his reactions, so if he doesn't like what you're doing, you'll know. It's all about learning what works best for you and him, don't be scared to try new things. Ask him what he wants, ask him if he likes what you're doing. Men love their women to talk dirty. And if the talking dirty doesn't come easily to you, moan like you mean it!
Also, if you think you'll like it better if it tastes different, go ahead. Add some whipped cream, chocolate sauce, whatever you fancy. Don't be afraid to watch a few porn clips and learn a trick or two (personally I'd recommend Camille Crimson).
And before a blow job, hydrate! Drink lots of water or juice, the more saliva, the better plus you won't get tired too soon.