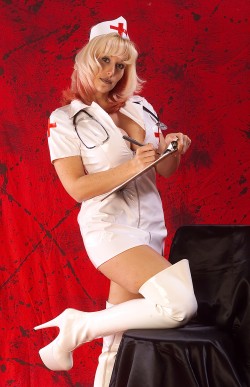 Sex appeal is never hotter than when everyone is dressed up and ready for some role play! The broad definition of Cosplay (short for costume play) is the act of dressing up as a character, but while the costumes you'll find at the likes of Comic Con can be risqué, they are not truly sexual. There is a deeper and darker aspect of Cosplay that oozes sexuality and can be the spark that reignites your desire. It's fun, fantasy and kinky SEX all rolled into one. For those of you who don't understand what cosplay is about and how it can be sexy, here's 10 Things You NEED to know…
10. What is Cosplay?
When most people think of Cosplay, they envision naughty nurses, horny firemen and slender policewomen, not just people in Klingon outfits strolling about the aisles of comic conventions, that (possibly) haven't had sex in a decade. People of all ages, income levels and backgrounds enjoy Cosplay in and out of the bedroom. The general definition of Cosplay is: 'the practice of wearing costumes to portray characters from fiction, especially from manga,animation, and science fiction.', but it's not restrictive.
9. Research
Any costume is considered Cosplay, from the French maid and school girl to leather clad Dominatrix. There are so many sexy costumes out there for everything from Star Trek, Super Heroines to the many characters of Manga and Anime, but it's not just dedicated to those genres. That's the beauty of it, you can be anyone you want. So take your time looking about for what turns you on, you're spoilt for choice.
8. Homemade Costumes Are Fine & Fun
You can go to a fancy dress shop and spend hundreds of pounds buying or renting a costume, but it's not necessarily the costumes realism that makes it sexy, but the act and persona that go along with it. You can create your own costume at home using whatever materials you have available. It may not look like it came right out of the movie or your fantasy, but if it makes you and/or your partner aroused, then it's doing its job.
7. Roleplay is Key
The goal of Cosplay is fantasy fulfillment and the costume is only one small part of the total package. You need to sell it with the right personality and actions. If you're a horny French maid, then act like a French maid. If you're supposed to be a innocent Catholic school girl, then act innocent and shy, yet aroused and curious. If you're Wonder Woman, then speak and act like Wonder Woman. When you get to having sex, the costume comes off, but you can still be in character.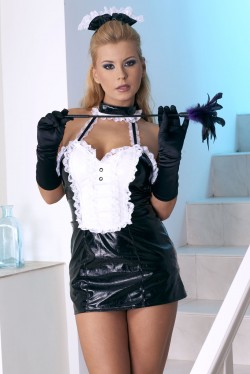 6. It's Ok to Mix it Up
Mix your favorite fetishes such as, exhibitionism, voyeurism, masturbation, etc. in along with your fun. It's totally sexy to have your favourite video game vixen masturbating for you or favourite Superhero dominating you. The only limit to your sexual exploration is your imagination…
5. Comfort is King
There are some Cosplay costumes out there that are cumbersome to wear and have many small parts. This is especially true for robotic and steampunk elements. Part of great sex is the ability to feel comfortable and relaxed. You can't focus on your orgasm if you're constantly worried about your gears falling off or your back is killing you!
4. Use Your Imagination
As I said before, Cosplay is anything you do involving a costume. While there are countless examples of science fiction characters, standard fantasy fare and others out there, you can also think outside the box. Why not have a Goth vampire fairy or a French maid who is also a secret agent? Maybe you've been a bad boy or girl and Santa Clause has come to punish you?! It's YOUR fantasy, so go as far as you want or need to. If your tastes lie a little outside the norm or what is standard, then don't be afraid to explore them.
3. Keep It Legal!
Cosplay allows people to temporary suspend who they really are in favour of a fantasy character and sometimes people can take it to extremes. Always remember to keep your activities legal or you could end up on some stupid criminal's website or all over YouTube. You may try to be the world's sexiest cat burglar, but that doesn't mean you should try and rob your neighbor…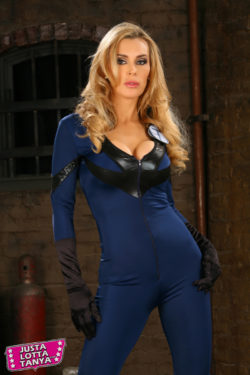 2. It's Not Just For Girls
It's not just women in barely there costumes that are good for cosplay, men are all part of the fun too. Every woman wants to be rescued by Superman or dominate as a school teacher. Cosplay for men is just as sexy as it is for women.
1. Just Have Fun
If there is any reason to dress up and throw yourself into a world of fantasy, then it's to have fun. Fantasies are supposed to be fun and exciting so don't get too disappointed if your partner flubs a catch phrase or doesn't quite live up to your expectations. Sex is always better when you're having fun!