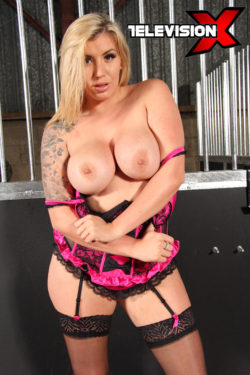 You may know Award Winning Geek Model, Performer and Adult Producer, Yuffie Yulan from her geek-meets-porn site, cosplaybabes.xxx. Well thanks to my friends over at TelevisionX you can now see her in her FIRST EVER ANAL SCENE! The scene premiers on the 1st November Sky 903, Virgin 473 and Freeview 171. You can also catch the Anal Long Hardcore version on www.televisionx.com. I caught up with Yuffie in the build up to her first anal scene, here's how it went:
If you were the opposite sex for one day, what would you look like and what would you do?
I'd like to look like the male version of me! So if I was born a guy, I think that would be interesting to see! And what would I do…. obvious generic answer is what all gene swaps want to do! FUCK! Haha I'd also sit in the "sexy" men's changing rooms all day and perv haha!
Do you have a secret talent and what is it?
A secret talent? OOO I'm not sure… I'm not one for keeping my talent hidden 😉 I am though very flexible!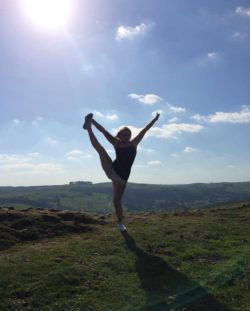 Climb to stunning locations early mornings for stretches and picnics with my girls.
What is one unique thing that you're afraid of?
I have no fears! I even love spiders! NO wait theres one thing that does terrify me… and that's men who don't trim their toenails…. Not so much a fear more a uncontrollable urge to get some garden sheers and …. 😉
What's your current desktop picture?
HA its hilarious…. but im sorry I cant show it you. Its possibly the most embarrassing picture of me ever…. My three girls and I are posing in the middle of the sea for a snorkle picture, they're all next to each other and the picture was taken when I wasn't ready, a yard apart mouth wide open (like WIDE OPEN) breathing in some air with these huge goggles on, and slick back wet hair making me look bald…. I look totally special. But every time I look at it I die a little inside but laugh so much!
You accidentally eat some radioactive vegetables and they endow you with the superpower of your choice! What do you want to be able to do?
I would like the will of ALL elements, so I would be able to control everything! There would be nothing I could'nt do! I would be near as omnipotent. (I am so a villan).
On scale from 1-5, how afraid of dark are you? I'm not scared of much…. sometimes I get worried I'll walk into doors, but that's about it.
Although one time I looked out my french patio doors and saw something in my garden, I was so shit up … then I realised it was my neighbours cat.
What's your best attribute?
I would say my brain! 😉 I'm a smart arse. Or maybe that's my worst attribute, I'll leave that up to your viewers haha
When I looked into the mirror this morning I thought… Good god girl you look like a lion!
What does the last text message on your phone say?
My mommy saying love you too 😀 (I was suppose to be cooking Sunday roast for the family today but I'm not here so having to do some sucking up!)
If you had to choose between a million £/$ and being able to fly which would you choose?
I would choose to fly, A million £ isn't a lot of money, but the ability to fly… well you cannot put a price on that. Anyways I would than sell my blood, skin and plasma samples to the highest bidder what would go well into the hundred millions. Who would'nt want the DNA of someone who can fly! I'd be rich and able to fly!
Have you ever had an imaginary friend?
THE WORLD DOES NOT NEED TO KNOW ABOUT THIS!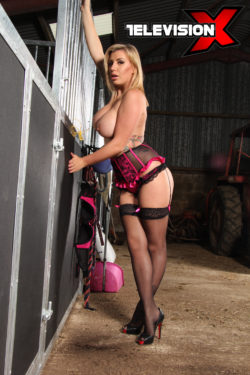 What's the furthest place you've ever visited?
Miami! I love going to Florida!
Is there someone you'd really just like to punch in the face?
Most of my ex boyfriends. HA.
Likewise, is there someone you'd really just like to cuddle?
Hmmmm I'm not sure, I'd like to cuddle Angelina Jolie 😉
The last furry thing I touched was… My pubes hehe
Who is the person you trust most?
My Mommy and Daddy 🙂 (they count as one!)
You just got a free plane ticket to anywhere. You have to depart right now. Where are you gonna go?
Japan! Without a doubt.
You're having a great day and you just found a £50 note/US$100 bill on the pavement, what are you gonna spend it on?
I'd give it to charity, as you cant have too much good karma coming your way 😀
If I could flick a switch to wipe one artist/band from the earth I would choose… Justin Beiber! GO ORLANDO BLOOM! haha
Do you use intuition when making judgments about people? I guess, People say you cant judge a book by its cover, but its just human nature to do that right?
Have you ever faked an orgasm in your personal sex life?
I will not answer this, for the sake of all women in the world 😉
Would you rather watch TV or read a book? Read a book. I love my books.
What book/TV series? I love Martina Cole books, anything sci-fi or fantasy!
My favourite position is… CEO 😉
Would you rather be a rock star or an artist?
An artist, I'm too much of a wimp to do the whole sex, drugs and rock and roll bullshit. I like quiet space haha
The filthiest person I've ever worked with is… Nacho Vidal! I loved fucking him! It was intense he fucked me REAL doggy style! Twist and turn bum to bum! It was unusual 😉
Are you a thinker or a doer?
I'm both I think, I like thinking and making lists and charts planning stuff, I then do it…. but
sometimes I fail at finishing 😀
Are you a leader or a follower?
I would say leader personally, but that's because I'm a bit bossy 😉
If I could have 3 celebs at my dinner table, I would choose…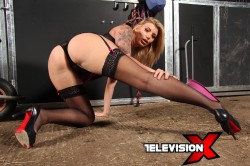 The guy who narrates "come dine with me", Angelina Jolie and Russel Howard.
My 'nerd' subject is definitely… Anime or Final fantasy 😀
You can re-live any point of time in your life. What would it be?
Going to Disney World in Florida as a child with my parents, life was awesome then collecting Disney character autographs. haha.
Do you think of yourself as an emotional person? No, not all. I get emo over books and movies.
Night in or night out? depends on what we are doing. haha
The last song I listened to was… Come and get your love – By Redbone.
In a Martin Luther King kinda way, do you have a dream?
I'm living it. 🙂 I wanted a cosplay adult company and now I have cosplaybabes.xxx I get to do the thing I love for my job
My average day is…
Wake up, black coffee, emails, work (either modeling or shooting for my cosplay site www.cosplaybabes.xxx) then home or sometimes home with a model some naughty fun, dinner, gin or wine, bed.
The best thing about my job is… Everything, the people, the sex the fun we have.
The worst thing about my job is… Washing dildos haha! The time that consumes!!!!
The one person I'd NEVER like to meet is… That little shit who killed his dog, it was in the paper recently, he set his dog on fire. I'd love to set him on fire!
Have you ever been arrested? No, are you kidding? I was not raised that way!
Do you have a collection of toys? What's your fave?
I just got an amazing tentacle hentai style dildo! I cant wait to use it!!!! haha
Do you follow politics? Which party do you follow? What sort of question is this WTF! Talk about intrusive!
My celeb crush is definitely… ANGELINA JOLIE ! How have you not worked that out by now? Jeeze I think I want her dressed as Malificent
Pizza or Pasta? Pasta! yummy
Thong or Frenchies? Thong
Blow Job or 69? Blowjob.
Check out Yuffie in all her cheeky glory in a recent interview for TelevisionX below and remember, don't miss the premier of her FIRST EVER Anal scene on 1st November!