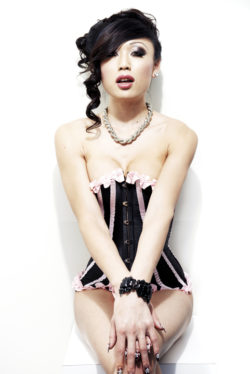 Venus Lux has become one of the top transsexual performers in the industry in the brief two years she has been performing. Since joining the industry in 2012, Venus has established herself as an experimental and dynamic performer, shining in an array of noteworthy scenes with men, women and transsexuals. The busty bombshell has attained numerous nominations and awards including a nomination for Transsexual Performer of the Year in the 2013 and 2014 AVN Awards. Venus currently holds the 2014 XBiz Award for Transsexual Performer of the Year and was named XCritic's "Must-See Girl of the Month" in March 2014. At the 2014 Tranny Awards, the multi-talented star took home three awards for Best Scene, Best Solo Website and Hardcore Performer of the Year.
Venus writes a popular column for AIPDaily called "Venus Rising" where she shares her opinions and news in the adult industry. With multiple awards and several mainstream projects under her belt, it's clear that this alluring performer isn't going anywhere and it won't be long before Venus Lux is a household name!
What is one unique thing that you're afraid of?
One unique thing that I'm afraid of are spiders. The sight of seeing these eight legged monsters crawling on my walls or crawling near my bed is enough to give me goose bumps. I'll probably shrill if I found a spider crawling on me.
You accidentally eat some radioactive vegetables and they endow you with the superpower of your choice! What do you want to be able to do?
If I were to be endowed with a super power I would have choose either the ability to fly or the power of telekinesis. What human wouldn't want to fly? To soar the skies and to break away from all reality would be amazing. As for telekinesis, moving objects with my mind would be fun. If I wanted to get something from the fridge without getting up would satisfy my inner fat lady.
On scale from 1-5, how afraid of dark are you?
Since I was a kid, I was always a believer of the supernatural. Being raised by a fortunetelling mother, I was told stories of spirits and demons that hide in the dark, which linger with me to this day. I would say that I would be a 5 when it comes to being afraid of the dark. I must sleep with some light on, including the TV.
What's your best attribute?
My best attribute would be my lips. They are plump and full which seems to be a coveted feature especially when it comes to photos. I'm fortunate to call them natural.
What's the furthest place you've ever visited?
The farthest place I've visited was Thailand 3 years ago. I was mainly visiting Bangkok, which was a fun and learning experience. Bangkok, being the capitol of Thailand, is a bustling city with millions of people. Amazing food can be found left and right, including amazing street food! Fun activities include adult nightclubs, a floating marketplace, miles of shopping, elephant riding and petting tigers in temples. It's an adventurous thrill like no other! But of course, like most third world countries, most highly populated cities have a high poverty rate. A classist setup of 5 star hotels and the multitudes of cheap hired help make up most of Bangkok's metropolitan sectors. Outside the gangs of motorbikes, cars, luscious markets, and city foot traffic lay Thailand's wonders… from the untouched rainforests, sacred temples, historical landmarks, to the clear blue waters.
The last furry thing I touched was….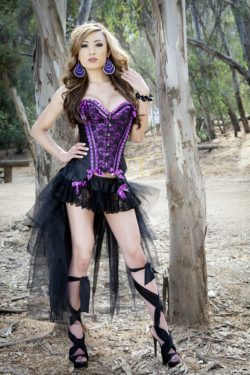 The last furry thing I touched was my friend's hairy chest. Body hair, including thick curly chest hair, is one of my biggest fetishes. Leg hair, pubic hair, arm hair, and chest hair make me quiver in ecstasy from the touch. Hair makes a man so virile, masculine, and sexy. When you see me fondling your chest hair, you know I like you. =)
You just got a free plane ticket to anywhere. You have to depart right now. Where are you gonna go?
I've traveled to most of the larger Asian countries, but the one Asian country I have yet to travel to and would desire to visit would be Mongolia. I'm of Chinese and Mongolian decent with very little knowledge of my Mongolian lineage or heritage. To discover my relatives in Mongolia living their simple lives would be such a learning experience. There is so much to learn about the Mongolian culture! To understand the typical Mongolian, who still used gas lamps, cauldrons for cooking, and wild horseback riding, would be so interesting compared to my city life upraising.
You're having a great day and you just found a £50 note/US$100 bill on the pavement, what are you gonna spend it on?
I believe things happen for a reason, especially when it comes to finding money. When I do find money, I take it as a sign to use it to make an experience. If I found 100 dollars, I don't see myself as 100 dollars richer, but instead I have 100 dollars to make an experience to share this with someone – whether it be treat a friend to dinner, share the money with someone less fortunate, or donate this money to a charity. This is just what I would do.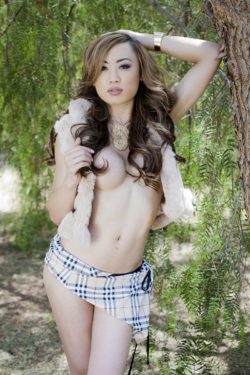 Do you use intuition when making judgments about people?
I have always been a person who follows their "gut feelings" or intuition. When you are in my position, where you encounter multitudes of people via conventions, award shows, and publicity events, you tend to develop a system of separating and prioritizing people of importance or relevance. I using my intuition along with all the info I can gather to help me make decisions/judgments about people, such as whether or not I should date this guy… should I give this guy my phone number… or should I sleep with this guy, etc.
Have you ever faked an orgasm in your personal sex life?
Girls, you can relate with me to this. You sometimes with get that day where you feel like you need to fake the orgasm just to please your bf, husband, friend, or whatever. Whether you had a long day or you aren't as close to orgasming as your partner is and you just feel the need to satisfy your partner. I know I have. I've had long days from a photo shoot and sometimes come home to a sexually needy partner. After filming for hours on set, sometimes you are just drained (no pun intended). More than once, I have encountered a situation where my partner wasn't able to sustain the momentum to my liking to be able to orgasm, so the best thing to do was to fake an orgasm so my partner can get off.
Would you rather watch TV or read a book?
Things are changing. More and more technology is advancing along with the mindsets of children born into the generation of technology. Even babies use tablets now! With all information available at our fingertips and quickly digestible via videos, I myself have joined the video watching faction. With such little time on my hands, I don't have time to read anymore than a few paragraphs. Now I choose to gather my information via video sources such as Yahoo news, YouTube, TV, and through my mobile devices.
What book/TV series?
As I mentioned, I watch TV more than reading but as I expressed, with the limited amount of time I do have, I actually watch very little TV. But when I do watch TV, it's for pure pleasure and relaxation. The TV series that is most watched would have to be House. My body rests but my mind seldom does and watching House is just a simple and relaxing TV show for my mind to exercise with the riveting story lines that fluctuate from episode to episode and various educational human illnesses and effects to learn about. I love it!
My favourite position is…
For me I love, love, love standing or sitting doggy. To be able to feel body on body with a man's throbbing big cock inside me, sliding back and forth as he grips my stomach and throat kissing my lips, is pure sexual passion and romance at its finest. Touch to touch, body to body, sweat on sweat.
Would you rather be a rock star or an artist?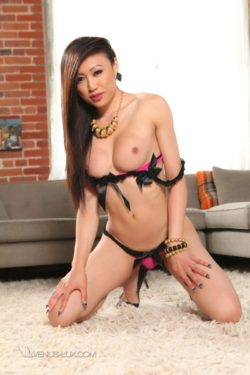 Artist.
Are you a thinker or a doer?
Both.
Are you a leader or a follower?
Leader.
If I could have 3 celebs at my dinner table, I would choose…
Angelina Jolie, Queen Latifa, Lucy Lu.
My 'nerd' subject is definitely…
Video games
You can re-live any point of time in your life. What would it be?
When I was 8 playing in my garden.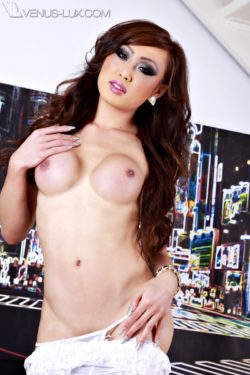 What was the last thing that made you cry?
Having kids.
My favourite stress relief is…
Walk in the park
The last song I listened to was…
Forever Young
In a Martin Luther King kinda way, do you have a dream?
Yes, a dream for change in transgender rights.
The best thing about my job is…
Porn innovation.
The worst thing about my job is…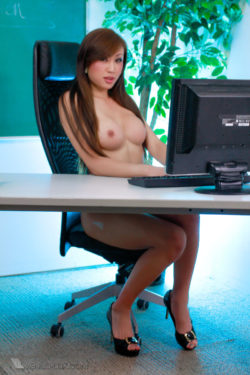 Long days.
My celeb crush is definitely…
Common.
Pizza or Pasta?
Pasta.
Thong or Frenchies?
Thong.
Blow Job or 69?
69
Natural or fake?
Natural.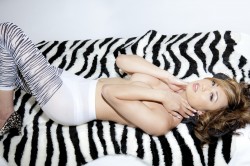 Follow @Venus_Lux on Twitter or check out the official website www.venus-lux.com!