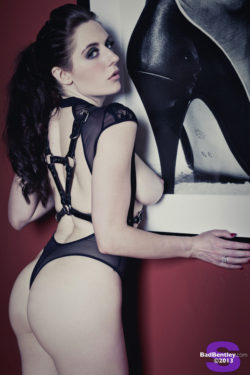 Samantha Bentley at home…
Do you have a pet? If you do, what is it? Got a picture? If you don't, what would you have if you could?
I have a pug called Fang and a cat called Creep
What's the perfect Sunday morning for you?
Sleep, sleep and more sleep. I get very little time off so when I am not working I love to just sleep.
Have you ever had any embarrassing moments when people have recognised who you are?
Not so much embarrassing more like 'fuck my life' because it always seems to be when I have no make up on or when I really don't want to talk to people….
If people haven't seen you in a movie yet can you suggest your favourite or just one you think they would enjoy?
My Harmony feature 'Samantha Bentley is FILTHY' or my first Evil Angel release 'Roccos Perfect Slaves'
Do you have a bear or a favourite inanimate object that you take to bed with you? Describe?
Yes I do, his name is Slug dog. My mother made him for me when I was born, he is supposed to be a dog but looks more like a slug, although now he looks like a tiny mustard coloured rag.
What's been the highlight of your career so far?
Working with Rocco Siffredi and winning my first AVN last year!
What's the one thing you're guaranteed to order from the menu?
A bottle of still water, yes I am just that boring.
Where can people find you at your filthiest?
Anything by Harmony films or Evil Angel!
Samantha Bentley in Bed…
What do you like more, giving or receiving oral sex?
Giving, it sounds like I'm bullshitting but I genuinely don't get much pleasure from receiving, I prefer to give pleasure and then be praised for it.
Some women enjoy foreplay more than sex, do you enjoy foreplay?
I love it, I love the feeling of getting so wet and so turned on that I'm literally begging to be fucked.
What gets you wet?
Neck biting and ear kissing, being rubbed lightly over my knickers, firm hands around my neck, a bit of passionate kissing.
Who gave you your first orgasm? Was it with yourself, girlfriend, boyfriend?
A girl, I was very young and we were in a tent in her garden.
What is your favourite sex toy?
Hitachi wand forever!
Samantha Bentley in Fantasy Land…
Sex or shopping? Which would you choose? Half an hour of sex with Johnny Depp or half an hour of shopping with Roman Abramovich's credit card?
Johnny Depp all the way. He is my absolute schoolgirl crush. I once met him and cried my eyes out.
Do you have any unfulfilled sexual fantasies?
I would love to be gang banged by 10 guys with baseball bats and masks.
You got a bit wrecked last night and can't quite remember what happened, who would you rather find in bed next to you when you wake up? Wayne Rooney or Shrek?
Aren't they the same person?
What do you find more attractive in a man? Money or Power (presume both have a big cock)?
Neither. Black hair, tattoos, an ego and a record deal… come the fuck at me bro.
Would you like to direct a porn movie? Tell us the plot.
No way!! My ideas are way too good, someone will read this and steal it.
Do you have a favourite football team? Which players balls would you most like to find in the back of your net?
I absolutely could not hate anything more than I hate football, I think it is a pointless load of crap, I can't believe people take it so seriously. Whenever England plays I like to root for the other team just to show quite how few fucks I give. My dad and brothers are avid Millwall fans though, so I guess if I was at gunpoint and had to choose, it would be them. My dad once took me to Wembley to see them play and I wore a tinkerbell outfit and a lion on my head. That's what we do.
Do you squirt?
Yes, in excess.
What's a better 3sum for you? You and two guys or you with one guy and one girl?
It 100% depends on the people, it is very rare to achieve the perfect threesome, I think I have had three in my life, off camera all were boy girl girl. I've never had two guys off camera.
Spit or swallow?
I will happily swallow, but I do like to play with it a bit first….