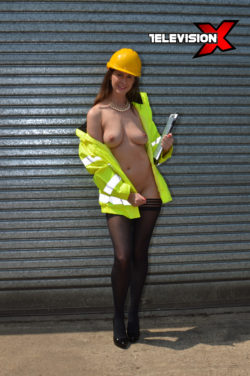 UK Porn Star and Television X favourite, Lara Latex gets personal! Check out her interview and details of her filthy upcoming series Lara Latex's Men At Work…
What's your current desktop picture?
Me swimming with Dolphins in Cancun, Mexico
On scale from 1-5, how afraid of dark are you?
1.
What's your best attribute?
My long legs
What's the furthest place you've ever visited?
Thailand. We go every year over Christmas and New Year
Is there someone you'd really just like to punch in the face?
No I'm completely anti-violence
The last furry thing I touched was….
My muff
Who is the person you trust most?
My husband JimSlip
You just got a free plane ticket to anywhere. You have to depart right now. Where are you gonna go?
On a round the world trip stopping in every country
You're having a great day and you just found a £50 note/US$100 bill on the pavement, what are you gonna spend it on?
I'd give it to the next homeless person I saw.
Would you rather watch TV or read a book?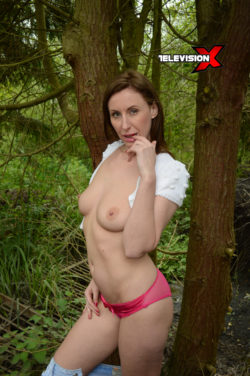 What book/TV series?
My favourite position is…
Driving a fast car fast
If I could have 3 celebs at my dinner table, I would choose…
Winston Churchill, Leonardo Da Vinci & Mozart
What was the last thing that made you cry?
Onions
My favourite stress relief is…
Listening to music and singing to it badly
The last person to tell me they loved me was…
My mum.
The last song I listened to was…
Bach Boys – Don't Worry Baby
My average day is…
There's nothing average about my day. Every day is completely different to the last.
The best thing about my job is…
Travelling the world and meeting lots of people.
The one person I'd NEVER like to meet is…
There isn't anyone I wouldn't like to meet. I think people are interesting.
Have you ever been arrested?
No. Im a good girl!
Do you have a collection of toys? What's your fave?
No. I believe if theres a real cock around, then it'd be rude not to use it!
My celeb crush is definitely…
Angelina Jolie
Pizza or Pasta?
Both. Im greedy!
Thong or Frenchies?
Neither. Im a big knicker fan.
Blow Job or 69?
Blow job.
Natural or fake?
Big and natural

Join Lara Latex as she seeks out men who do manual work and invites them to shag her senseless. As you know, Lara just loves getting upfront and personal with the average guy in the street and in this series she manages to find guys who keep the electricity flowing through your hair tongs to the guys who put the weetabix on your table in the morning and gets them banging her out in filthy work yards and on the lawn beside a large pond when she surprises an old friend. Wherever and whenever the mood takes her, Lara is up for it and outdoors!
Lara's Men at Work Premiers Saturday 30th August on Television X (Sky 903), Freeview 171, Virgin 473
For more on Television X, please visit:
www.televisionx.com
www.twitter.com/tvxmole
www.facebook.com/TelevisionXOfficial