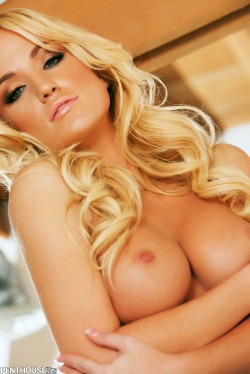 Full time naughty girl Angela Sommers gets Naked Naked! The American beauty can add Erotic Dance Newcomer Champion 2014, Playboy Cybergirl, Penthouse Pet and Pet of the Year Runner Up 2013 to her list of accolades and there's only more of the stunning blonde perfomer/model to come! Get to know Angela a little more intimately right here…
If you were the opposite sex for one day, what would you look like and what would you do?
That is a great question! If I were a man for a day, I would try to experience sex with a woman. I think every woman has thought about that at one point in their life. It;s got to be an amazing feeling with a penis. And if I couldn't score by the end of the day, I would hire a prostitute. There would be no way I would miss the chance!
Do you have a secret talent and what is it?
No. Not that I know of. Well I CAN curl my tongue into four loops, not sure if that is considered a "talent" but not many people know about it 🙂
What is one unique thing that you're afraid of?
I am afraid of doing a summer salt, and I cant put my head under water.
What's your current desktop picture?
The DVD cover Art of my newest DVD release of my Bi sexual Vampire Super Heroine Character, Callidora.
You accidentally eat some radioactive vegetables and they endow you with the superpower of your choice! What do you want to be able to do?
Walk through walls, doors , any object in my way basically.
On scale from 1-5, how afraid of dark are you?
4.
What's your best attribute?
My EYES, and my ASS.
When I looked into the mirror this morning I thought…
Its going to be a good day!
What does the last text message on your phone say?
There are about 5 text messages conversations going on right now on my phone, the last one said "YAY!".
If you had to choose between a million £/$ and being able to fly which would you choose?
Being able to Fly, because if I was able to fly I would be able to make a a million just showing people I could fly.
Have you ever had an imaginary friend?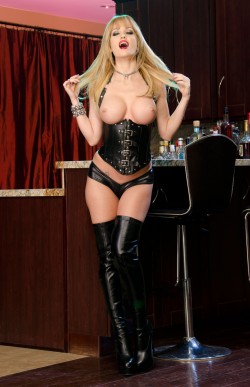 No.
What's the furthest place you've ever visited?
Croatia.
Is there someone you'd really just like to punch in the face?
Yes. Many. But I can't tell you who 🙂 lets just say… many.
Likewise, is there someone you'd really just like to cuddle?
Yes! I'd like to cuddle Jonah Hill.
The last furry thing I touched was….
My kitty, Lucy.
Who is the person you trust most?
My sister.
You just got a free plane ticket to anywhere. You have to depart right now. Where are you gonna go?
I'd go to Bora Bora.
You're having a great day and you just found a £50 note/US$100 bill on the pavement, what are you gonna spend it on?
I'd buy a nice gift for someone I care about and use it to make someone I love smile.
Do you use intuition when making judgements about people?
Yes. And 83 percent of the time, I am right.
Have you ever faked an orgasm in your personal sex life?
Yes.
Would you rather watch TV or read a book? What book/TV series?
Neither really. But if I have to choose then watch TV. I like a good TV series.
My favourite position is…
Doggie style.
Would you rather be a rock star or an artist?
An artist.
What band/artist?
I'm not sure who but defiantly a famous painter, makeup artist or costume designer.
The filthiest person I've ever worked with is…
No one really. I've had the pleasure of working with really beautiful and clean women in my career.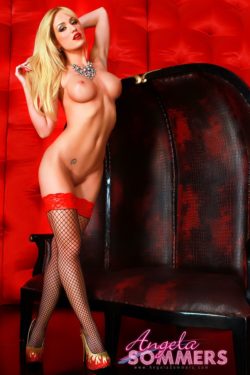 Are you a thinker or a doer?
BOTH
Are you a leader or a follower?
Leader.
If I could have 3 celebs at my dinner table, I would choose…
Angelina Jolie, Brittany Spears , and Peter Steele
My 'nerd' subject is definitely…
Star Wars
Do you think of yourself as an emotional person?
Yes
Night in or night out?
Night out.
What was the last thing that made you cry?
Stress.
My favourite stress relief is…
Dancing.
The last song I listened to was…
Typo O Negative – October Rust, the album in my car.
Are you an unconditional giver or is life a business deal?
Unconditional giver first, business deal second.
The favourite age I've been so far is…
26
What's your favourite position?
Doggie style
The best thing about my job is…
I get to play dress up all the time.
The worst thing about my job is…
Long hours and traveling with little sleep.
Have you ever been arrested?
No
Do you have a collection of toys? What's your fave?
Sex toys yes! My fav used to be the Hitachi, but now I love the Body Wand.
My celeb crush is definitely…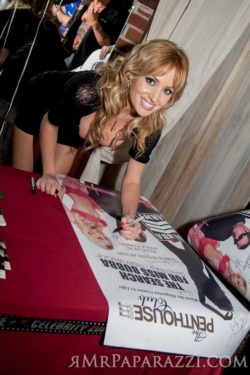 Peter Steele
Pizza or Pasta?
Pizza
Thong or Frenchies?
Thong
Blow Job or 69?
Blow Job
Follow @RealAngSommers to keep up do date on all of Angela's upcoming features (and some seriously HOT pics)!