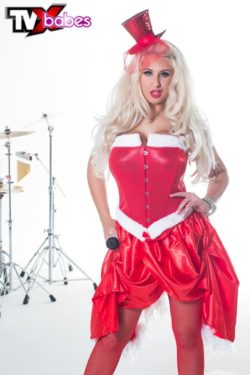 TelevisionX/Pornhub Records are taking on the Charts! Their catchy festive tune 'Coming for Christmas' is on sale NOW via itunes for just 79p!!
Starring some of the top names in the UK Adult Industry, Brooklyn Blue takes one the lead vocals with help from possibly the sexiest line up of backing singers ever Miss Angel Long, Jess West and Victoria Summers. And of course no Christmas Porn band would be complete without the legend that is Mr Ben Dover on the drums!
I sent my top Fanny Roving Reporter along to the Official Launch Party last week and 'Coming for Christmas' may not be set to storm into the charts and blow Band Aid or whatever wannabe popstar wins this years Xfactor out of the water, but it is a fun, feel good, christmas cheese fest! Personally I love a bit of cheese! If Mr Blobby can do it, who's to say the TVXBabes can't?!
TelevisionX boss, Chris Ratcliff is calling on the UK Adult Industry and all it's fans to get behind the track and has even pledged to make a donation to a UK Adult Industry nominated good cause if it makes it into the UK Top 40.
If we make it into UK charts we pledge a donation to a UK-adult industry nominated good cause #ComingforChristmas https://t.co/fAGLVhkOwo RT

— Chris Ratcliff (@TVXboss) December 1, 2014
With lyrics like 'nothing says Christmas like a good snow blowing' and 'let's go sit on Santa's lap,see what's inside his sack' the innuendo laden tune was never meant to be a heart felt Christmas classic, just a happy, fun loving track to put a smile on your face. Sure I want to feed the world as much as the next person, but I can't be the only one bored to tears of the sullen faces of Band Aid pop stars at the 'happiest time of the year'? I suggest you make a donation to Oxfam to ease your moral conscience then go buy this track, if only for the look on Simon Cowells face, let's get Coming for Christmas to #XmasNo1!!
https://www.youtube.com/watch?v=MtMtdF5BQHA&feature=youtu.be